Today is the official opening of the Chinese Development Assistance Council (CDAC)@ Bedok branch. The CDAC is set up by the Chinese community to help those who are in financial need and the academically weaker students. As with most community events, there would be numerous activities to engage the community and this event is no exception as well.
Besides the usual free goody bags, drinks (Mr Bean's!), food (popcorn) and lucky draw, there are booths explaining CDAC to the community, the signing up of events organised by the CDAC etc. There are other numerous, interesting activities like sudoku, clay modeling, making of your own keychain, simple stretching exercises, origami, paper crafting and my favourite, the creating of your own mini terrarium!!! My sister and I were both attracted to the idea of creating our own mini terrarium! However, there was a very long queue and hence, we participated in other activities first. After getting our "chops" from completing Sudoku, we decorated a card for Fathers' Day and made a dragonfly magnet each using clothes peg. I noticed something interesting: My sister wrote her card in English but signed off in Mandarin while I wrote the card in Mandarin and signed off in English. Lol.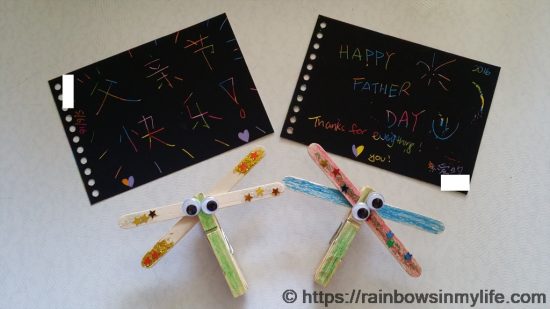 Unfortunately, my sister had to leave for her own stuffs after she completed the above. Hence, I asked my mum to queue up for the making of your own mini terrarium with me. I wanted her to have her own mini terrarium for her to place at her office desk (After all, plants make one happy!). After queuing about 30 minutes, we finally created our own mini terrarium! Our mini ecosystems started "surviving" on its own and within a few minutes, we could already see condensation in the bottles themselves! Such a wonder! =D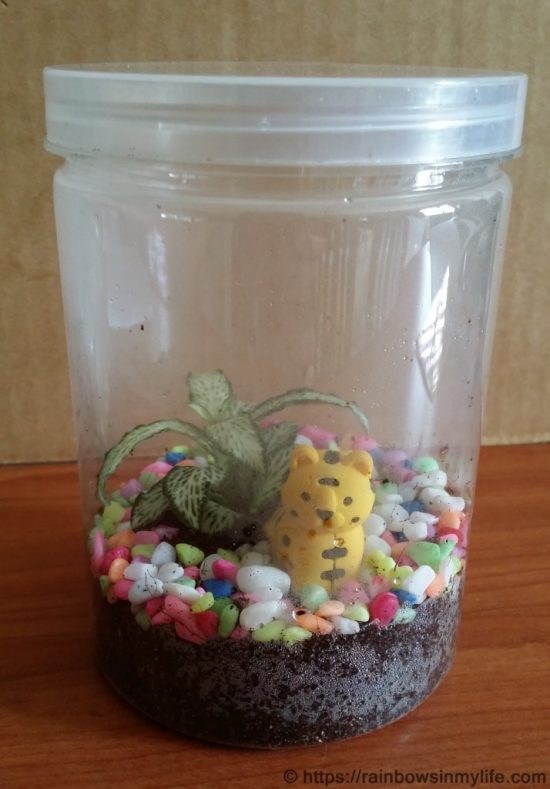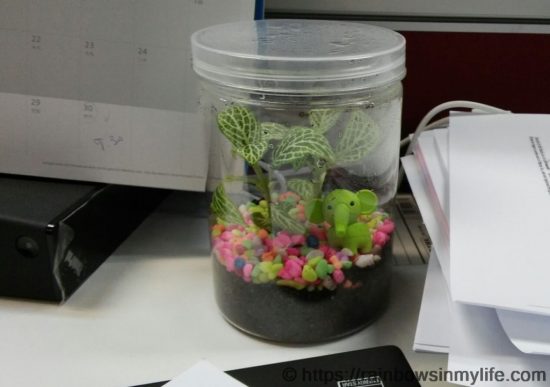 The organisers also kindly allow us to take some of the leftover soil and cut plants left after the whole event ended. This way, the opened packets of soil and the cut plants would not be wasted as people who are still interested could make their own terrarium at home! Thinking that my sister would want to make one terrarium for herself, I took some soil and two small plants home. We gathered some supplies and she started making her own terrarium:
one airtight container
some soil (according to the "teacher", it is some special type of soil specially for terrarium)
small plant(s)
some pebbles (optional. For decoration. Luckily, my mum and I had some leftovers from our own terrarium today!)
a cute figurine (optional. For decoration.)
a plastic spoon for scooping up the soil, making a hole in the soil for the plant
one to two caps of water (cap from mineral water bottle)
As we could only find a small container suitable for this, my sister could only use one of the smaller plants I brought back and some of the soil. This is her cute terrarium!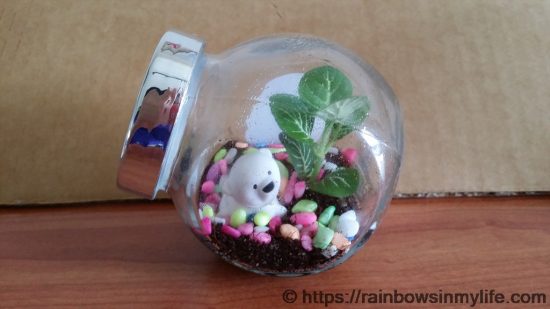 Not wanting to waste the resources, I decided to make one for Sunshine and hunted for another container. Apparently, Sunshine was quite interested in this as well! If he is not interested in something, he would always respond nonchalantly whenever I am telling him things. However, this time round, instead of rejecting me making one for him, he actually agreed to bring it home and even place it on his office table! Finding it odd, I asked if he likes the mini terrarium and he replied "Ya. I think it's nice"!!! Woah! First time sey… *beam with happiness!* With Sunshine being a science person, I think he is more intrigued by the science behind this self-sustaining ecosystem though. Haha. Anyway, this is Sunshine's on his study table!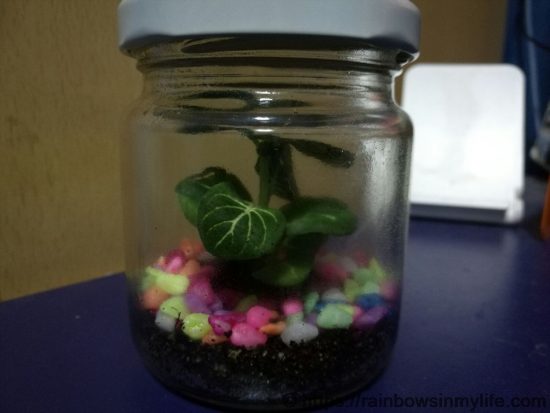 It is a happy day today! Hehe!