I have been wanting to buy from Taobao 淘宝 since eons ago when I first heard the rave about it. Many bloggers have posted how much they save, in terms of money and convenience, just by buying from Taobao instead of buying the same items with inflated pricing here in Singapore itself. However, due to various reasons, I have not started buying online from Taobao yet. This is because, firstly, I prefer being able to see, touch or even try my items before buying them. This assures me that what I want is exactly what I am paying for. If I unfortunately receive a defective product, I could just exchange it for a new one by going to the shop again. Secondly, I do not know how to buy things online! Oops! The fact that Taobao is in Chinese language just makes things worse. Though I am comfortable speaking in Mandarin and reading Chinese on a daily basis (conversational standard), I am not confident to transact in it (working standard). Lastly, I am secretly worried that once I start buying things from Taobao and experiencing all its goodness, I would be hooked! Haha. Therefore, all along, I have been putting off online shopping from Taobao but just envying others who bought their items there.
Thus, when I chanced upon a blogger's guide to buying from Taobao using SGshop for the upcoming 11/11 sale (apparently, Taobao has a yearly sales for singles every 11th Nov), I was tempted yet again to try buying from Taobao. This is especially so ever since I saw all the wedding-related products which were sold at a fraction of the prices at Tabobao as compared to the exact same items sold at much higher prices in Singapore! With that, I registered for an account with SGshop with the intent to "try" shopping from Taobao. SGshop is an agent who would help either people like me, who are not very comfortable transacting in Chinese, or people like Sunshine, who do not mind paying more to third parties, for more security. SGshop would check that the products received at their warehouse in China is correct and check for any defects in the items before shipping them to Singapore. This saves consumers the trouble of liaising with the Taobao sellers (as compared to buying from Taobao directly), reduces shipping costs in the event that a return shipping is needed due to wrong item posted or defects in the item etc and gives shoppers an assurance that the items they receive are what they bought and in good condition. Of course, it is the shoppers' own responsibility to ensure that the correct items are added to their shopping carts.
I find that it is quite easy to use this website as I just had to search for the item on Taobao, copy the link and paste it in SGshop's search box. I would be able to then get SGshop to help me buy and ship the item over. After an hour of shopping, I went to my shopping cart, intending to pre-order my items, check-out and make payment. For the 11/11 sale, I could choose to pre-order all that I want first and get SGshop to buy for me on the promotion day itself! This is great news because, I would be working this Friday and hence, would not be able to shop on Taobao myself. Lol. Additionally, as the items might run out during sale, I might not be able to get all that I wanted if I waited till I knocked off from work this Friday. In fact, even I do not have to work, the inexperienced me might not be able to get all that I want in this "fastest-finger-wins" mad rush. Haha. I have not bought from Taobao nor know anyone personally who does. Hence, I assumed that there would be this mad rush based on hearsay from the internet only. Please do not take my words for it. Haha. SGshop claims that they would pre-order the items shoppers wanted first with the Taobao sellers so that shoppers need not worry that the items they wanted would run out of stock on 11/11 (However, SGshop also asked its customers to choose an alternative just in case the items they wanted ran out). Just before pre-ordering my items, the noob me accidentally emptied my cart TWICE and I had to restock it again. Omg.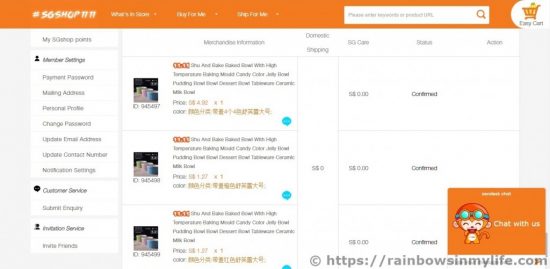 When I finally filled my cart again, I downloaded the SGshop application and used it to check my items out. This is because, for the 11/11 sale, if one transacts using the application, there would be waiver of service fees by SGshop. As a first-timer, I find that it is easier for me to search for the items on Taobao and then add to my cart using my laptop. Maybe I would prefer the convenience of shopping on the go as I become more familiar with the online shopping process! Haha. According to the website, the service fee could be 4-8% of the total amount, depending on one's membership status. I checked with the friendly and helpful customer service personnel online and he said that as long as payment is made via the app, SGshop would consider the transaction done via the app! However, the full amount would have to be paid first and SGshop would refund the discounted amount after Taobao sellers announce their various discounts on 11th Nov itself. Maybank credit card holders would be entitled to an additional 11% off their bill!
In summary, for this 11/11 sale on 11th Nov, using SGshop, shoppers would be able to:
Pre-order the items they want beforehand
Enjoy the 11/11 discounts on their items bought on 11th Nov
Save on the service fees of between 4-8% if you use the SGshop app
Shave another 11% of your bill if you pay using a Maybank credit card!
I have made my first step and tried to shop on Taobao (albeit via an agent) and I had fun adding items to my cart and thinking of the savings I made! Hopefully, the shipping and final costs, including 7% GST, do not terrorise me when my goods reach Singapore and the second payment is due (SGshop would not be able to tell shoppers the final price until the items reach Singapore itself). *looking forward to receiving my items! Excited!*
Oh. If you want to try SGshop like me, you can click on my referral link here to register =)
Disclaimer: This is NOT a paid post, please.