I have always loved family gatherings because I feel that it is a great way to bond. Hence, since everyone is free on New Year's Day, I organised a family gathering at my grandma's house. My whole family, my grandma, my uncle's family, together with Sunshine and my brothers' girlfriends were present. We ordered Domino's pizza and KFC while I baked a Shepherd's pie (chicken) with the help of my whole family. XD My intention was to bake the shepherd's pie by myself but I went out to buy the gifts for exchange and I reached home very late. Luckily, my mum had already helped my buy the ingredients needed beforehand.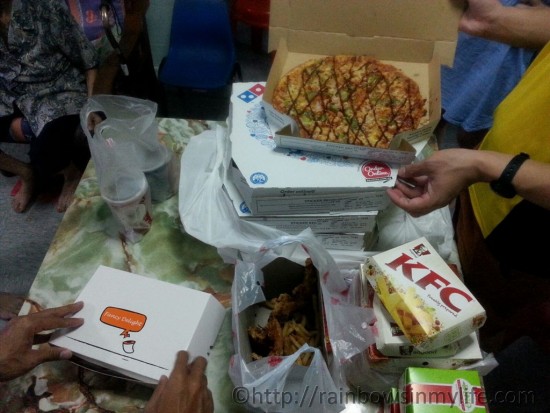 By the time I reached home,
5.10 pm — my father had peeled the potatoes, carrots and cucumber while my mother had helped me stir fry the chicken and boil the potatoes. I had to juggle shredding the carrots and cucumbers, wrapping the presents (Sunshine and I helped my elder brother and his girlfriend to buy presents too) and ordering pizza online. In the end, failing to do any of those well all at the same time, my elder brother helped me to first shred the carrots and cucumber then wrap our presents for the gift exchange. I was pleasantly surprised with the gifts he wrapped as 1) I told him to just use newspaper to wrap the gifts but he managed to source for magazines as wrapping paper and 2) all the presents were very nicely wrapped! I did not know he knew how to wrap gifts at all. Haha.
5.20 pm — There was some technical glitch with the online payment for the pizza and hence, Sunshine took over this process. I went to mash the potatoes. My mum was cooking the vegetables my elder brother had shred. My father went out with my sister to order KFC and they would also be collecting the pizza later.
6 pm — Pizza ordered. Sunshine came over to help me with the potatoes. The potatoes were not boiled long enough and in the end, even after returning it to the stove for some time, we still have to grate it with a grater. My youngest brother came home and introduced us to his girlfriend for the first time. His girlfriend bought Swiss rolls and egg tarts. They then helped with the grating of the potatoes.
6.20 pm — My eldest brother came and my mum asked her to stir in the chicken stock in for the shepherd's pie filling so she can say she contributed to the cooking as well. Haha. After many many minutes of grating the potatoes, all the needed potatoes had been finely grated. So the filling was laid on a glass baking tray, followed by the potatoes, with the cheese spread on top. Yummy!
6.25 pm to 6.45 pm — Baking in progress!
7 pm to 8 pm — I reached my grandma's place. Eat, drink and be merry!
8 pm to 9 pm — With the exception of Sunshine and my cousin, all of us youngsters played Stack-O and charade. I also thought of a minute-to-win-it game whereby players, wearing a steps tracker, have to hit a certain number of steps in a minute. However, we were quite happy and excited in playing those two games already that I did not think we needed another one.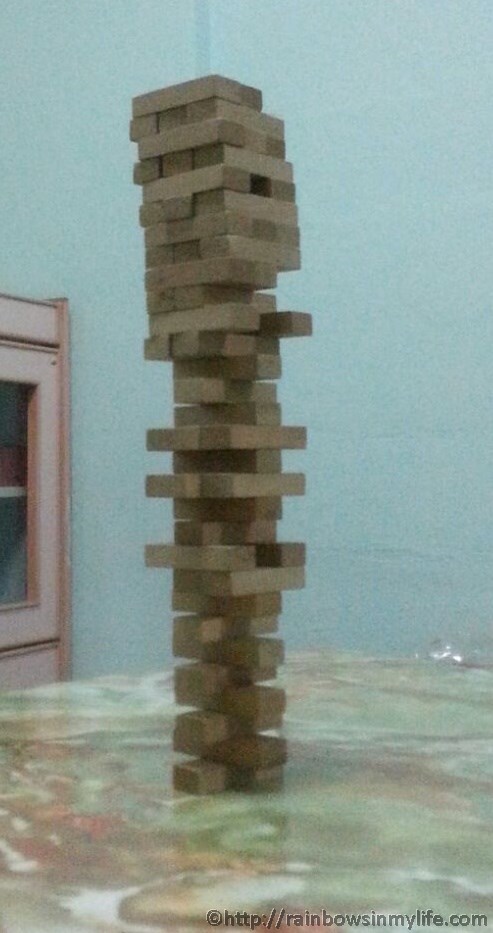 9 pm to 9.15 pm — Gift exchange!
9.15 pm to 9.30 pm — Clearing up then Home Sweet Home!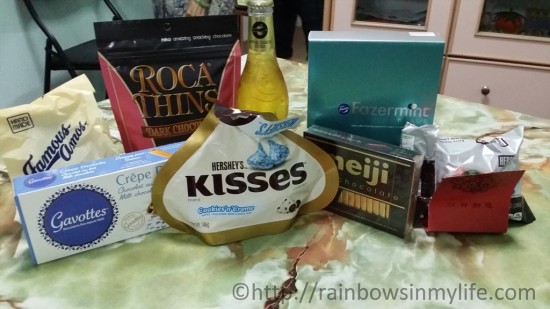 I was very happy to hear that everyone enjoyed themselves! All the elders were happy to see us (the youngsters) bonding and enjoying ourselves while the youngsters finally put down our phones in a long while to have fun and a good laugh at ourselves and each other. I hope my family can have this kind of gathering more often! (The next one would be during CNY! I am sooooooo looking forward to it!)