I was using a Rowenta oven for quite a number of years before I was finally fed up with its inability to maintain its temperature at the set value and uneven heat distribution; the food on left side of the tray where the heating element is, always turn brown much faster than the right. Hence, I began hunting for a value-for-money, reliable and bigger oven (still a table top oven as I do not have much space for a built-in oven in my house at the moment). With these considerations in mind, I shopped around and chose the Delonghi SfornatuttoMaxi 32L eventually. I bought it at $399 (excluding warranty) and within 2 weeks after my purchase, all the major departmental stores sold it at a discount for $299. =.=" *heartache* Currently, I have been using this oven for about 7 months now and here is my review for it.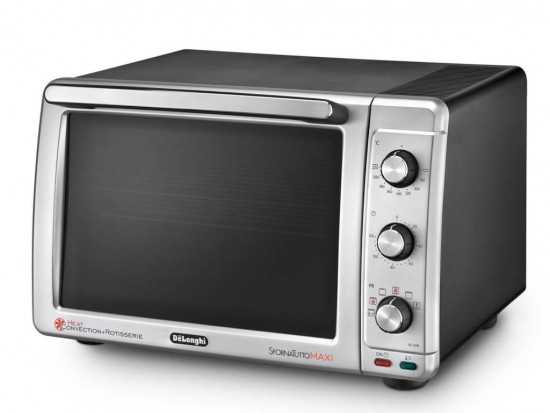 Review of my Delonghi Sfornatutto Maxi 32L Oven
Function:
This oven has 7 cooking functions and they are: defrost, grill, heat convection, traditional, gratin, rotisserie and keep warm. So far, I have only used the heat convection and traditional modes and they have served me well.
Performance:
Unlike my previous oven, this Delonghi oven comes with a fan and a round heating element. This results in quite even heat distribution, which means, I do not have to rotate my trays in between baking. (Of course, there is some obvious uneven heat distribution, especially when I use the heat convection mode but I can live with that).
What I first noticed about the oven when I first used it was that, it was able to maintain a constant temperature at the set value throughout! This really amazed me and made me very satisfied with my purchase after years of using an oven where the temperature can rise up to 230°C when the set temperature is at 150°C. (I used the same external oven thermometer for both ovens to measure).
Design:
A double glass door and a unique insulation system makes the oven door not as hot to touch and reduces the heat lost from the oven, making it more energy efficient and saving my electricity bills! XD
According to Delonghi, the "lower heating element is hidden and the edges are rounded in order to make the cleaning easier". I agree with this statement as I just have to wipe my oven with a damp cloth after using it and it looks clean and new! 😀
The insides of the oven is coated with Delonghi's special enamel. Apparently, this material is more scratch and heat resistant than regular non-stick surfaces. As much as I try to be gentle when using my oven, I would accidentally scratch it sometimes with the trays I use and I thought I would see a few scratches here and there on its sides. Thankfully, the sides are still intact.
The presence of an oven ready light indicates when it is ready at the set temperature to bake my food! It is definitely much easier to spot this green "oven ready" light from a distance where I am doing my work, rather than having to walk to the oven and check the temperature on the oven thermometer every few minutes. On the other hand, the light in the oven itself lets me see my bakes and hence, allows me to adjust my baking accordingly.
You can only either open the oven door fully or close it; there is no in-between or "leaving the door slightly ajar". This irritates me because I have to find suitable paper or something else to put in between the door and the oven just to open the oven door slightly during baking.
The temperature setting is in graduations of 20°C. This means that I have to estimate and guess how much of the knob to turn for anything that is in between an increment of less than 20°C. For example, where my Rowenta oven can let me adjust the temperature of the oven to the nearest °C (electronic settings), I can only guess that the 150°C where I had turned the knob to, is indeed at 150°C and not at 148, 149, 151, or 152°C etc. Even if I use an external oven thermometer to check, the oven would need some time to adjust to the set temperature and the thermometer would be even slower in reflecting the changed temperature. If it is not at the temperature I wanted and I turn the knob ever so slightly to readjust the temperature, I would have to wait for the oven (and thermometer) to respond before I can check if it is indeed at the temperature I wanted. Similarly, the timer is in graduations of 5 minutes and not to the nearest minute. (However, I use my phone's timer to overcome this problem).
The knob controlling the timer can only be turned clockwise and not anti-clockwise. This means that once I set the timer to 10 minutes, I am unable to reduce the time set to 5 minutes. I would have to monitor the time myself and switch off the oven after 5 minutes or have my food cooked for 10 minutes. =.=
Final Verdict:
I am a novice baker who has had some success with baking using this oven. (All my baking products in this website were baked using this very oven.) This greatly increases my confidence in baking and makes me want to try baking different and more goodies for my family and friends. I am satisfied with my oven for now!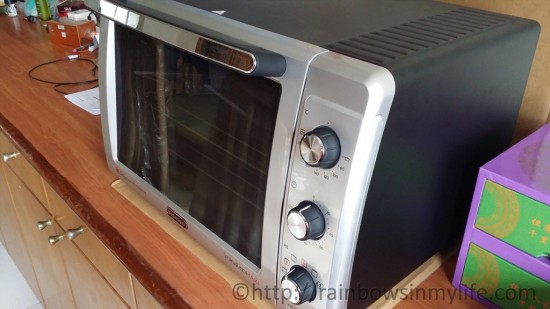 Affliate Link (Support us by purchasing this oven using any of these links!):
[Qoo10] Delonghi EO32852 Electric Oven (32L) – Singapore Warranty