I have a love-hate relationship with macarons and it all started in year 2014, when I chanced upon Beth's Foolproof French Macaron Recipe on YouTube. Then I made my maiden batch of macarons for the first time ever and like the very sensitive desserts they are well-known to be, I failed in my first, second, third… attempts. Not knowing what went wrong when I followed the recipe to a T, I gave up. (Failure to me means cracked macarons, uneven feet, burst feet, uncooked macarons, hollow shells etc).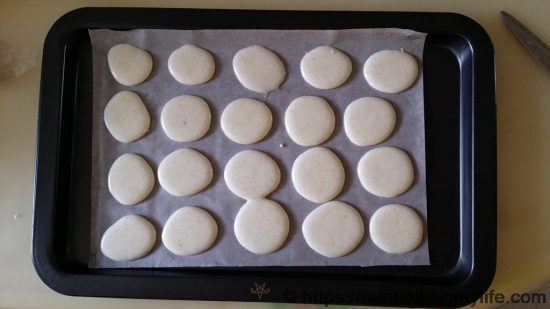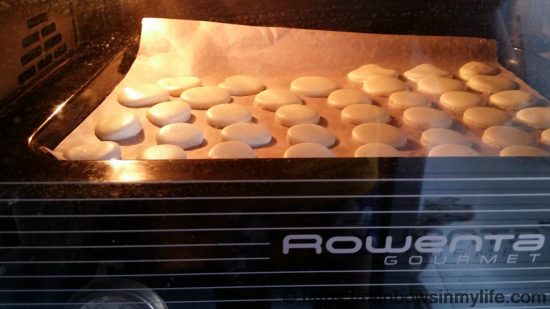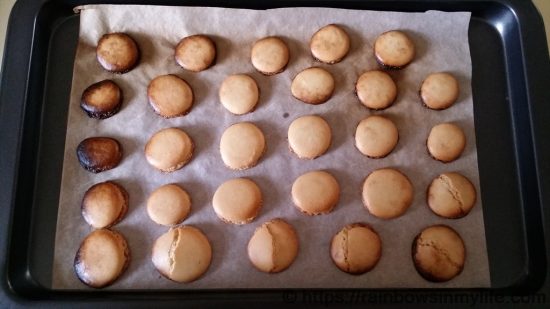 A year later in 2015, I braved myself and tried making macarons again. This time, I followed The Baking Biatch's Matcha Macarons recipe but I failed miserably too. This time round though, I was very sure that one of the reasons I failed was because of my oven whose temperature read >230°C on the oven thermometer when I set the temperature to be 80°C. =.= I got myself a new oven and tried again. When I failed yet again, I decided to sign for a macarons baking class. As expected, everyone in the class made beautiful macarons during the lesson. I do not know how many of us succeed again after our class but I certainly did not.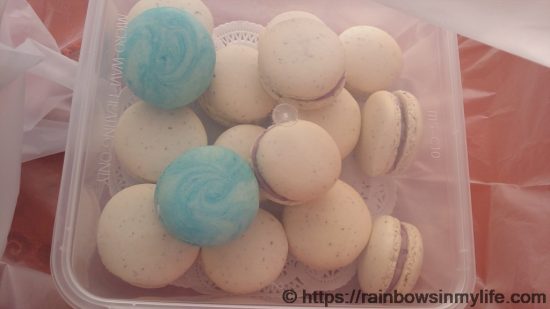 Sunshine saw all these and encouraged me not to give up trying to bake macarons. He asked me to observe what happens when I did certain steps, take notes, take lots of pictures and practice, practice and practice again and again. I googled online for all the reasons for macaron failures and I found this Macaron Troubleshooting Guide. I find this to be very accurate, comprehensive and easy-to-understand. It is still my to-go-to whenever I face problems with my macarons!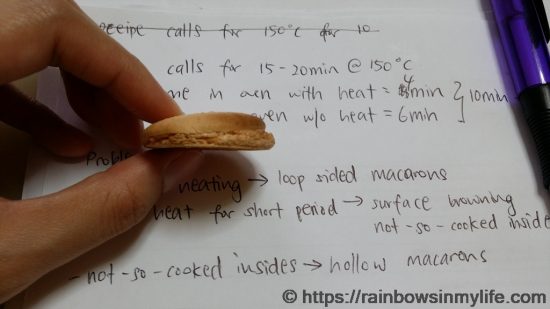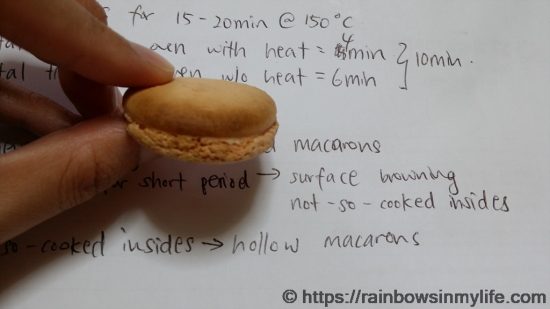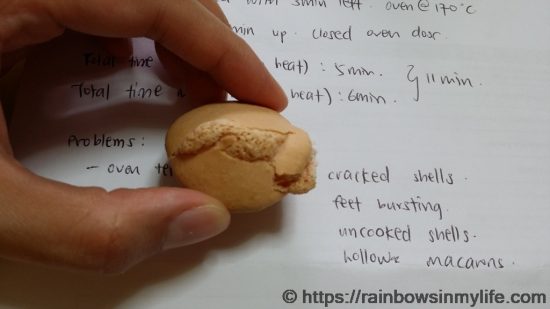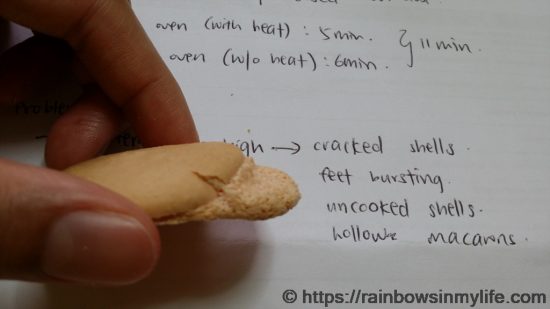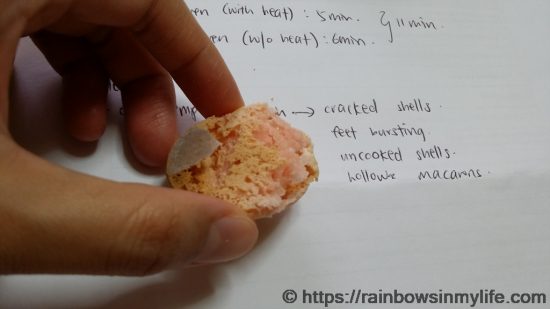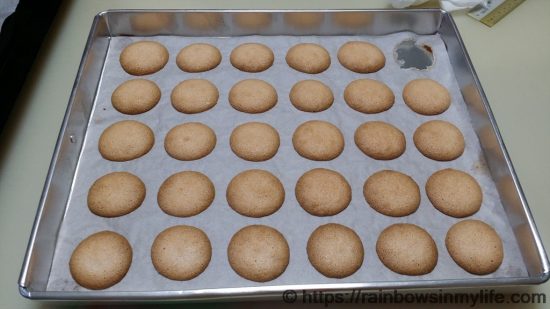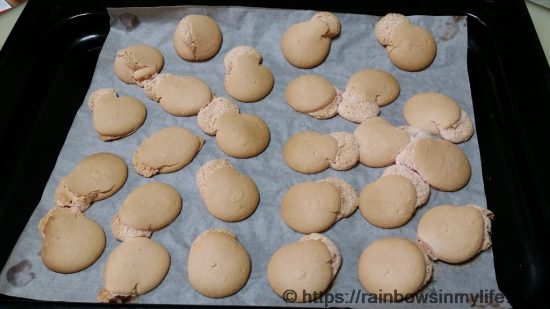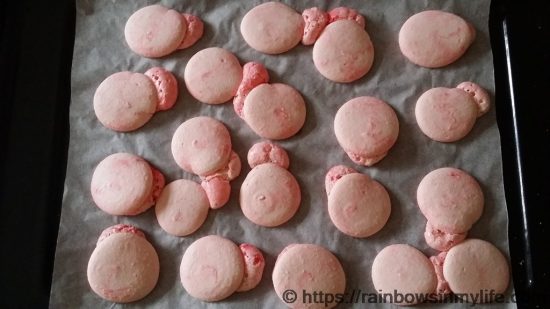 When I finally succeeded in having one pair of beautiful macarons in my whole batch, I was elated! Sunshine was also very happy for me and he continued to encourage me to try to replicate whatever I did in baking that particular batch. His encouragement made me determined to succeed and when I first saw the whole tray of macarons rise evenly and beautifully, I was happy beyond words!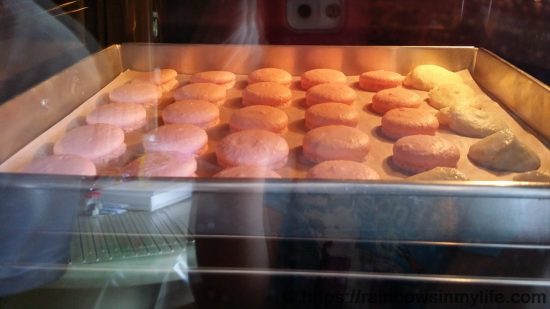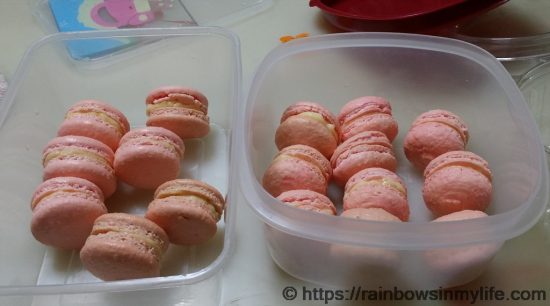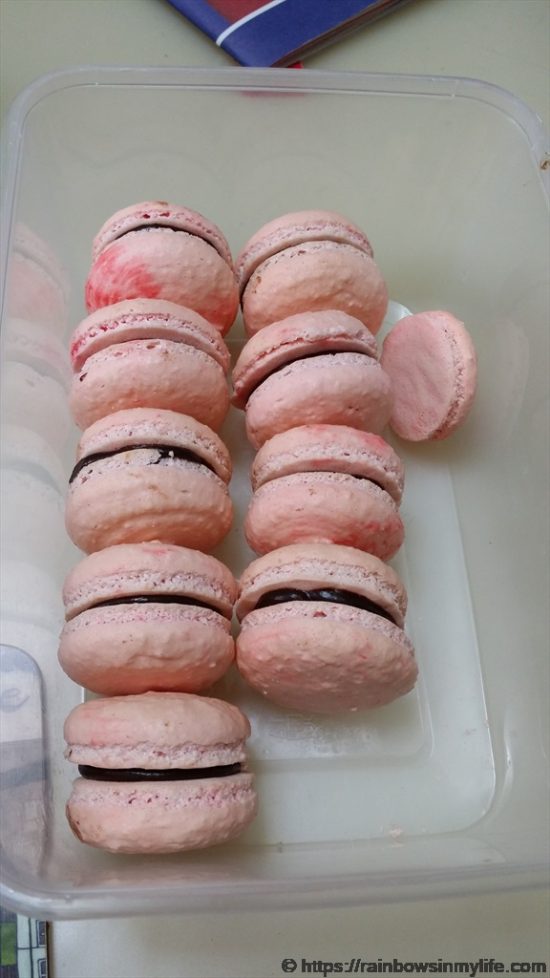 After succeeding a few more times, I started working on the macarons' aesthetics. Previously, all my macarons had rough surfaces and one of the reasons for this is undermixing of the macaronage, according to the website stated above. Hence, I tried to fold a few more times before piping them out. However, my macarons started spreading and failing again! During this period, I was baking macarons almost twice weekly during my off days. I could use up to 1kg of almond powder in one month! Tired and disheartened, I totally stopped baking macarons for the next few months, for a total of about nine months. That was when I tried baking my first cupcakes and succeeding it in my first try! Haha. It was also because of this experience that I started this website to document all my successful bakes to make myself feel better. HA HA HA!
In 2016 now, I saw people posting the macarons they baked and I felt tempted to give it a try again. Though I was also afraid of failure, Sunshine encouraged me and convinced me not to be afraid of failure but to embrace it as another learning experience. This time round, I tried a favourite recipe posted by those very same people who posted pictures of their macarons. You can see the results here! =D I think I found THE recipe to keep!
只要不放弃,绝望就会变成希望!
– 單均昊,王子变青蛙 (2005) "