It has been about a month since my last update of Baby C's progress because it has been about a month since we last saw her! We had chosen a specific obgyn, Dr Jessie Phoon and were upgraded to private patients at our last visit to KKH and this was our first visit to Clinic L.
Clinic L
Unlike Clinic C, the subsidised clinic, Clinic L was very spacious, luxurious and very relatively empty! There was no queue for registration (I think we failed self-registration because it was our first visit there) and there was also no queue for the usual height/weight/blood pressure measurements and urine dipstick test. We were also given a slip to indicate the documents we would like to have from our obstetrician for our visit that day. Sunshine ticked "medical certificate", "prescription" (for my obimin) as well as copies of my "scans and ultrasound results". I thought this was a very good initiative for me to get all the documents I might need for that visit because somehow, I would forget things once I stepped into a doctor's room. Instead of only a water dispenser, Clinic L also offered a hot drinks dispenser. Luckily for Sunshine who advised me to drink my chocolate malt quickly, I managed to finish my drink before I was called into the doctor's room. Like our previous stations, we were promptly called within a 5 minutes' wait (by my name instead of my queue number being flashed on the screen). Our whole visit lasted a maximum of about 30 minutes (?). This was a stark contrast to our experience at the subsidised clinic where we would have to wait for our turn at every station and our whole visit would last at least two to three hours each time. Naturally, the different experiences also included a difference in the bill sizes. It was our first time seeing $200+ for a doctor's visit as compared to our previous less-than-$100 invoices.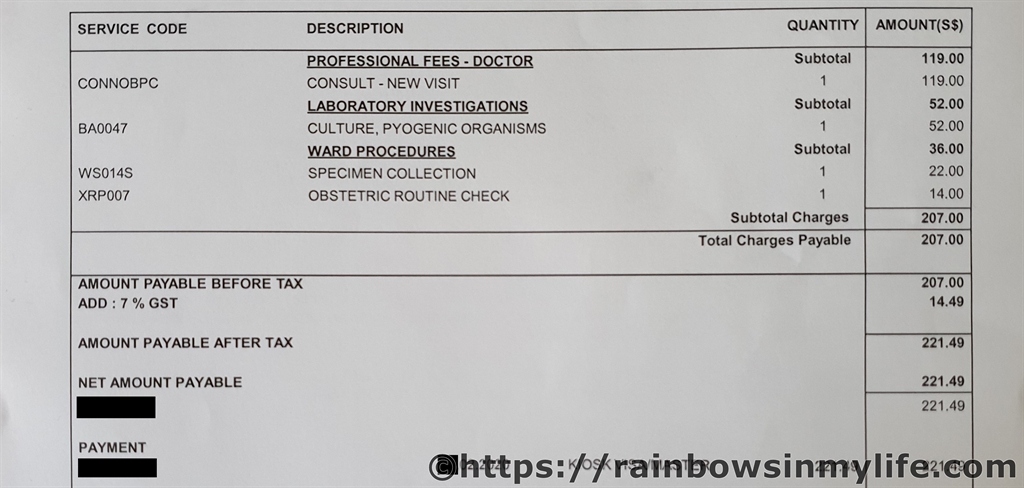 While I understand the need to provide a much better experience in order to attract those who can afford to pay to do so, a part of me still feels that there is inefficiency in this system and that there are under-utilised healthcare resources in the private clinic, as compared to the subsidised clinic. Patients are squeezing in the subsidised clinic (I often see some couples standing because the clinic is too crowded to accommodate everyone) while there is ample unused space in the private clinic. Some of the staff in the private clinic were waiting to attend to patients while staff in the subsidised clinic cannot seem to clear their endlessly stream of patients in their queue. =/ Sunshine very much preferred his experience at the private clinic and repeated a few times that we should have gone "the private route" right from the start, despite the significantly larger bill size. I know money talks but to see it in a public healthcare setting just does not seem right to me.
Update on Baby C!
After we were introduced to our obgyn, Dr Phoon, I was ushered to lie down for my ultrasound scan. She first took a vaginal swab and explained that it would be tested for presence of Group B Streptococcus in my vaginal (GBS test). If the result is positive, I would have to be given a course of antibiotics when I deliver Baby C, to prevent me from passing the bacteria to her. After the swab, Dr Phoon then used her hands to feel for Baby C's head in my pelvis and I think she felt it because she did not say anything otherwise. Sunshine was then asked to join us as she scanned for Baby C. She showed us Baby C's flicking heartbeat and her head down position. She explained that Baby C is still facing head down as per my last scan, but not engaged yet. Honestly, other than the blinking part, I could not make out anything else from the ultrasound. Lol. However, it was still reassuring to know that Baby C is unlikely able to turn back up (no u-turn, baby!) but she will still be able to be very active and this is something I had been told to monitor from now on. Dr Phoon said that Baby C must be as active as she currently is everyday and I should be concerned if her movements decrease. As of my writing of this post, she is actively moving and causing me some discomfort in my upper abdomen. Lol. Before I could ask, Dr Phoon also informed us that at weeks 35 and 5 days, Baby C weighs about 2.4kg, going on to 2.5kg and that was a good weight.
"We could try for natural if you want".
Of course I wanted to try for natural! Hearing that, she advised me to stay active, walk more, climb the stairs, go swimming, do squats etc. When I told her about going epidural-free and not wanting an episiotomy, while she was more positive about the former, she warned that for first time childbirth, episiotomy was often done and preferred as opposed to an uncontrolled tear. Sigh. I thought the literature decades ago already debunked the myth that a clean, deliberate cut was not any better in terms of healing rates than an accidental, unwanted tear. I guess some doctors are still conservative and cautious about the uncontrolled tear causing complications like a rectovaginal fistula. To be honest, I am very worried about developing this fistula if I insist on letting my vaginal wall tissues tear on its own during childbirth and hence, I am not insisting on not having an episiotomy now. However, to reduce the risk of having an episiotomy, I asked about perineal massage which was shared by some other mummies-to-be in a group chat. Dr Phoon said that it would help and advised me to start doing daily from that day onwards, focusing on trying to stretch the region between 4-8 o' clock. It has been a few days since my appointment and I still have not plucked up the courage nor the energy to try this on my own. Sigh. *face palm myself*