Sunshine and I had packed our hospital bag way in end-Feb 2020 when I had false contractions. Unlike some of the accounts I read where people brought cabin-sized luggage to the hospital, somehow Sunshine and I found that a normal-sized backpack was sufficient to pack everything we need. We cannot fathom how much things one packed such that a cabin-sized luggage was necessitated. The things we packed in were as followed:
Documents
1. KKH Admission Documents
2. Both Sunshine's and my NRIC. Sunshine also has my driving license in his wallet, just in case I forget to bring my wallet in my haste to go to the hospital when I am alone and Baby C decides to come.
3. Marriage Certificate. We did not pack this in as I do not intend to register Baby C's birth in the hospital. I wanted to get a Fengshui master to calculate auspicious names for Baby C and hence, would not make it in time to register Baby C's birth in the hospital before I discharge. (Sunshine has been protesting against this since the longest time but I insist on this XD)
4. Bills for all gynae visits. During our Financial Counselling session, we were told that as all our gynae visits were in KKH, there was no need for us to bring our bills for claiming of expenses from Medisave, which has a cap of up to $900 for prenatal visits. KKH has all our records for this and we could bring additional gynae bills from external providers if we have (we do not).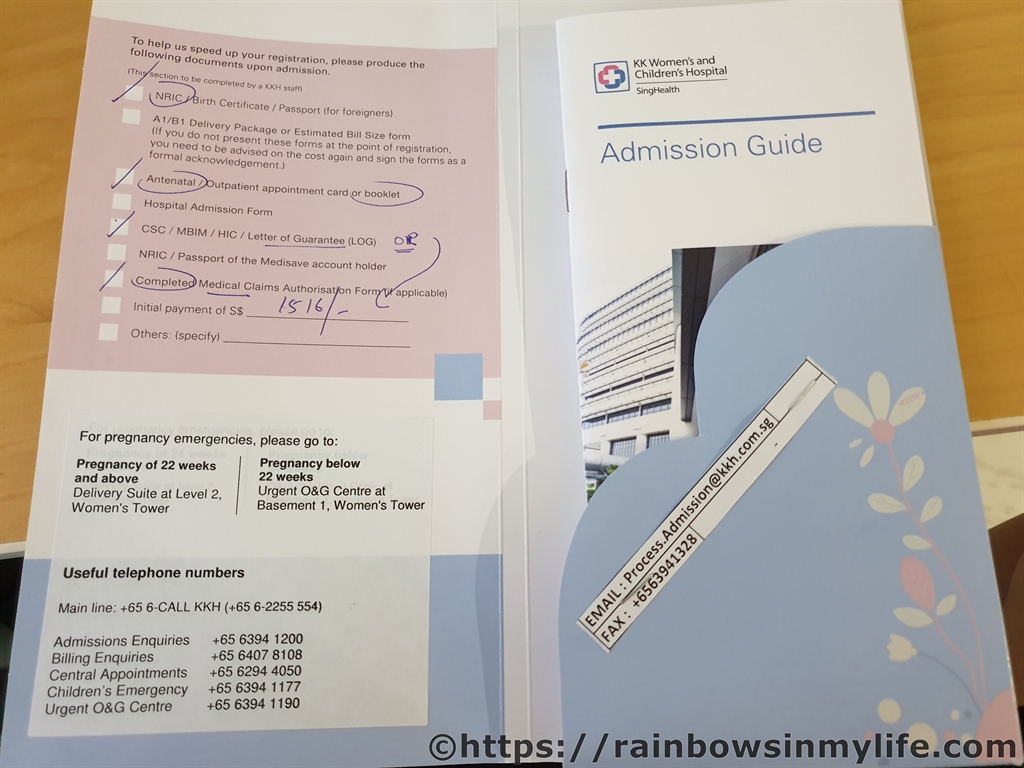 For Mummy
1. Maternity bra x1 since I would likely be staying only one night in the hospital
2. Cover for nursing pillow. I have heard of accounts where mummies complained that their wrists hurt just a few days after giving birth and carrying their babies. As the nursing pillow which Sunshine bought for me is small and portable, I intend to bring it to the hospital so that I can start using when I breastfeed Baby C. Hopefully, the lactation consultant would be able to teach me how to best position Baby C with the nursing pillow.
3. Sample maternity pads, just in case I do not like the ones provided by the hospital.
4. Disposable underwear, just in case I do not like the ones provided by the hospital.
5. Compression stockings, more for just in case I need to undergo emergency Caesarean section.
6. Toiletry bag (with toothbrush, toothpaste and comb). Though a small toiletry bag would be provided for patients in B1 class and above, I thought to just bring my own as well. I have also brought sample nipple cream and nursing pads for use in the hospital.
7. Wet bag to contain all my stuffs together. I think this makes things neater for packing too!
8. Clothes for going home and slippers. I intend to wear whatever I wear to the hospital home.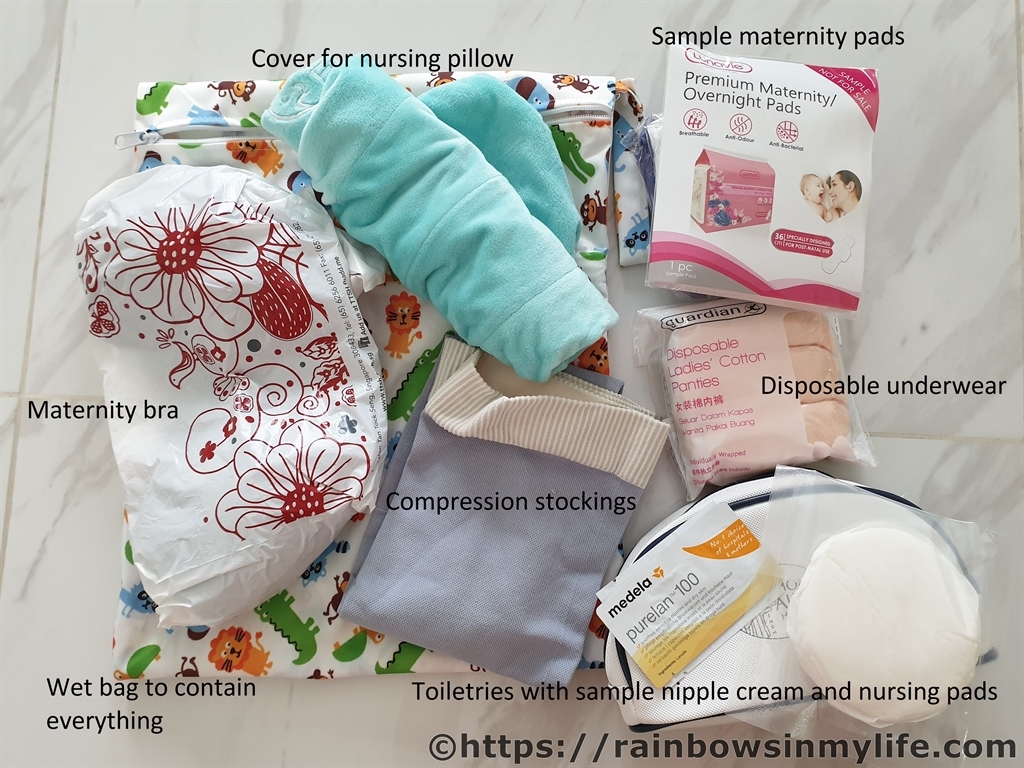 For Baby
1. Muslin swaddle
2. Mittens and booties
3. Baby cap
4. Small towels/washcloths to wipe Baby C's saliva (if any) on our way home
5. Swaddle Up. I brought two different types of swaddles and would decide which to use then.
6. Baby romper. I specifically chose something I thought would be cute for Baby C to go home in.
7. Wet bag to contain everything.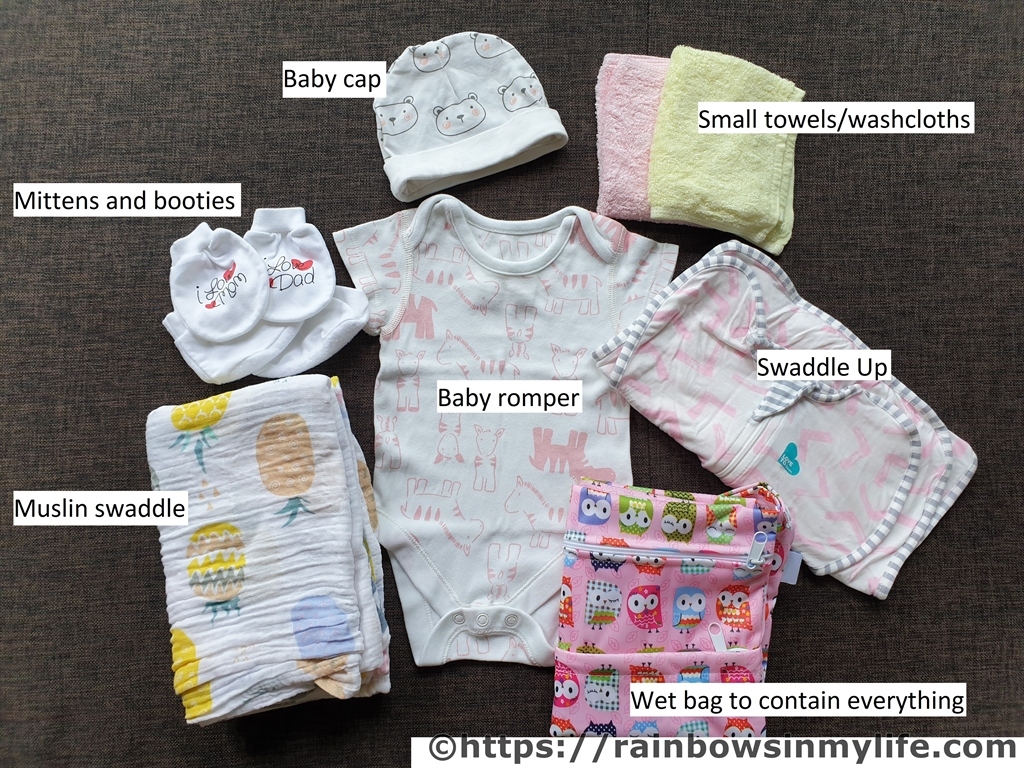 Miscellaneous stuffs
1. Electronic stuffs such as phone charger, portable charger as well as Kindle for Sunshine. To pack in camera if preferred (we would just use our phones).
2. Food, namely Brand's chicken essence x2 bottles (Some say that these provide energy needed for pushing while others claimed that some doctors do not recommend these to be taken during labour as they might increase risk of post-partum bleeding. I will check with my gynae on that day itself) and my favourite biscuits, Hello Panda, if I am allowed to eat during labour, before I am xx cm dilated.
3. Jacket for Sunshine and perhaps myself too. I heard that it could become quite cold in the delivery suite, especially if one has to stay inside for long hours. Shivering is also one of the side effects experienced by some mummies after they have had their epidural that their blankets alone did not make them warmer. They had to rely on jackets as well.
4. Breast pump. I have not decided whether I would bring this to the hospital. Some mummies say that there is no need to bring this to the hospital as the breast milk would not kick in so early and hence, there would not be a use for the pump (it is not recommended to pump out colostrum as it is too thick and too little. Pumping it would waste the colostrum). Another school of thought is that the lactation consultant would be able to teach you how to use the pump if you bring it to the hospital.
Let me know if there are other things you packed in which I had left out! Thanks! 😀