Today was my last check-up with my gynae, Dr Jessie Phoon, before I finally deliver. I had not been feeling any signs of labour despite walking, doing squats and trying breast massage (not sure if I did the correct way but hey, I had colostrum coming out)! Despite the lack of signs, I still harboured a small hope that she would tell me that I am already 4-5cm dilated when I see her and that Baby C could be delivered today.
The first thing Dr Phoon did when I entered the room was a cervix check. I have heard of how uncomfortable and painful a cervix check could be and was bracing myself for the pain during the check today. However, perhaps because my crevix was not very dilated, I was quite surprised that I did not feel much pain at all during the check; it was uncomfortable though. Dr Phoon informed me that I was about 2cm dilated and she kinda helped me to stretch to 3cm in the hopes that it would speed things up a little. After all, I was getting impatient about Baby C still staying in my womb and I cannot wait to carry her in my arms. When I asked if this meant that I could be induced today so that Baby C would share my birthday, she said it was possible if I want to be induced since Baby C was already at a healthy weight and gestational period. However, she cautioned that a lack of labour signs and only a 2-3cm dilation of cervix might mean a long labour, which may or may not result in Baby C sharing my birthday eventually too. Inducing now would also likely mean that I would need an epidural in order to tolerate the painful contractions for longer periods of time. Both Sunshine and I had briefly discussed our options before our visit today and hence, we unanimously agreed that we would not opt for an inducement now since there was no medical need for it.
Dr Phoon noted that Baby C had not put on much weight (still ~2.9kg) since my last visit two weeks ago though I had put on about 800g during the same period. While it was dreadful to hear that all the weight I had put on went to myself instead of Baby C, I was kind of hoping that she would then continue to say "since baby is not putting on weight anymore, let's get her out of you today to monitor her" or something like that. Lol. If so, this would be the "medical reason" I needed to say yes to an inducement. Haha.
After the check and scan, she stated the options for us. As mentioned, we could opt to induce today or wait till next week to induce if Baby C still does not want to come out by then. The dates given were roughly between 15-17 Mar 2020. I preferred the numbers, 15 and 16 and told her so and she then chose 16 Mar 2020 (Mon) instead. Sunshine guessed that it was because she likely would have preferred not to work on a Sunday instead. Lol. We were told to come to the hospital as early as possible. I was thinking 9 or 10+ am when she said 6 or 7+am. Omg! So early sia. I still want my sleep! As she did not specify an exact time, I interpreted this as anytime before 8am then! Haha. We would have to bring our admission letter which she prepared as well as the other admission documents to the Delivery Suite on that day itself. We were then asked to go to the Admissions office again to get our paperwork done so that Sunshine could accompany me instead of having to settle this on the day of my admission itself.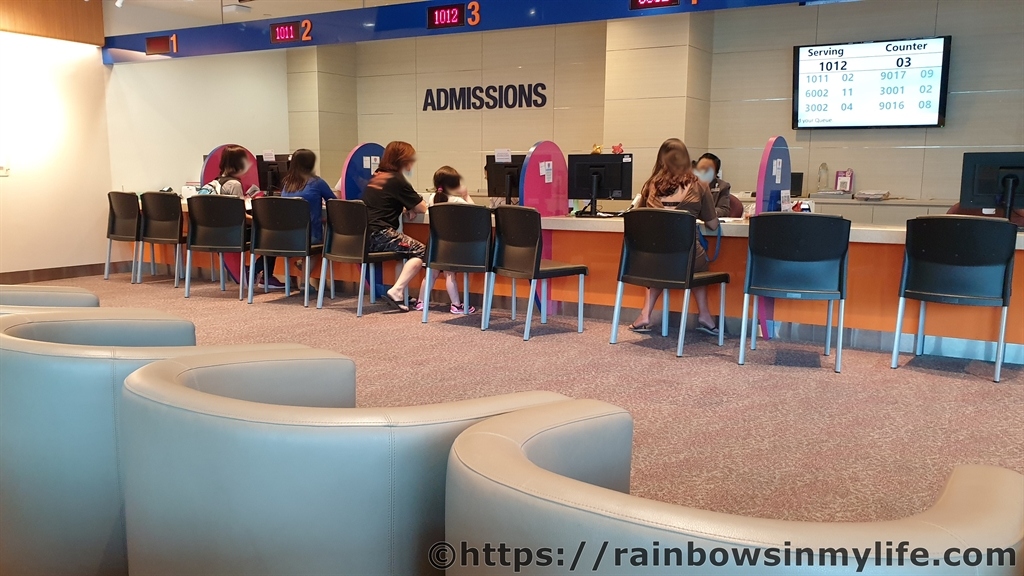 I was quite determined to get this settled today and we headed to the Admissions office once again. Unfortunately, it was the same Patient Service Associate (PSA), a certain Mdm Lim, who dismissed us the last time, manning the Information Counter at the Admissions office again today. As per two weeks ago, she told us to come back again on the day of our admission. Wth!!! Frankly, I was quite pissed to hear this same thing from her again and I had to insist for the admission documents and financial counselling to be done today. Seriously, I did not get her… why did she not want the patients to settle the admission and financial counseling procedures before they were admitted? Would it not be better for patients to settle this beforehand instead of having to rush through it when they are in labour? The only two excuses I could think of for her disgusting, unprofessional behaviour were that if patients/their family members were in a rush (be it a woman in labour settling her own admission or an anxious spouse trying to get everything done quickly so that he could accompany his partner in the delivery suite ASAP), they would have less time and a less clear mind to ask questions and clarify their doubts:
1. In my opinion, an anxious mind could translate to poorer financial decisions made as these patients/family members would likely want "the best for the patients" in times of their discomfort while;
2. Lesser time for financial counselling would mean less questions asked, translating to lesser work needed to be done for each patient. Pui!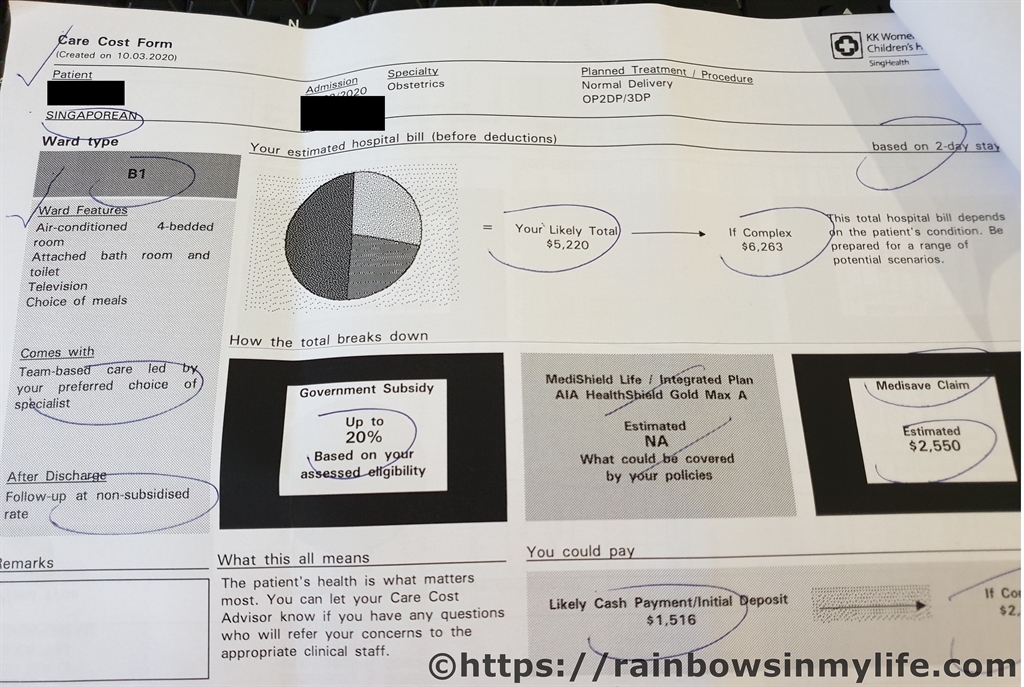 We noted that despite the many counters available, less than half of them were manned, resulting in quite a wait for everyone. When it was finally our turn, I was delighted that the PSA attending to us was patient yet concise in explaining to us all the information she had. She also informed us that due to the DORSCON orange situation, the spouse will not be allowed to stay over even if we were to choose A class ward. This reinforced our choice of choosing a B1 class instead and the associated costs were explained to us. We were told to bring these documents with us on the day of admission. I also managed to get answers to my questions (see updates here). We left as satisfied people after this. Thank you, Shai!