When I was about week 16.5 in my pregnancy, I received results of my FTS and Harmony Test! All along, my papa had told us my eldest brother had it the toughest since he was the first-born and the first to navigate everything for us, in terms of school, new hobbies, exploring computers and the Internet etc. Hence, I had preferred to have a boy as my first-born and had always assumed Xiao Bu Dian to be a cute boy who would grow up to protect his younger siblings, just like what my eldest brother did. If I could have my way, I would have one boy followed by two girls.
The day before I received the results of the FTS, I was still forcing Sunshine to come up with a name for our boy! Just in case Xiao Bu Dian turned out to be a girl, we had also already sort of confirmed a name for her. I polled my family members for three girl names we shortlisted and all of them chose the same name as the one we most preferred! The next day, when the doctor told me that Xiao Bu Dian is actually a girl, I was momentarily stunned. How could this be? I thought the temple lot that I had obtained told me that I would 一举得男 when I asked about when I would get pregnant earlier. The lots I had obtained previously were all very accurate leh. Nevertheless, I was still very happy with a girl, just that I already felt heart pain at the thought of her having to help take care of her siblings. With the confirmation of Xiao Bu Dian's gender, her name was also eventually confirmed to be Baby C! I shall call her Baby Cloud in this space to fit our theme: Rainbow, Sunshine and Baby Cloud!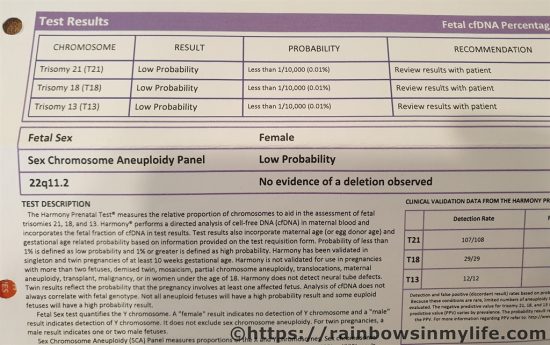 Sunshine had no preference on the gender and frankly, I think we were both most happy to learn that Baby C is healthy and passed her FTS and Harmony Test! There was no evidence/a low probability of any abnormalities as far as what the tests could show. However, Sunshine noted that my estimated date of delivery (EDD) had been pushed back. I also told him that Baby C was only at the 50th percentile for her crown rump length (CRL aka height/length?). We both thought that Baby C might be a little on the small side but as the doctor did not mention anything, we did not really fret much over it. What the doctor did highlight was that my placenta seemed to be a bit on the lower side and she advised me not to carry heavy stuffs nor strain myself lest I bleed 🙁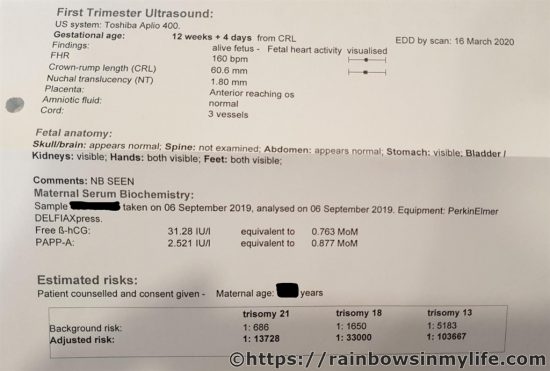 Please continue to grow well, Baby C! Papa and mama love you! I went window shopping at Bugis BHG after my appointment at KKH and laid my eyes on these two gift sets. Haha!