In the final part of the post, I will share the ID Sunshine and I engaged eventually…
Absolook Interior Design Pte Ltd
Absolook was the third company we went to as I had always wanted to go there ever since reading another blogger's experience with them. Though her experience was not really that fantastic, I felt that they were quite established and I wanted to just have a chat with them. After persuading Sunshine, I finally managed to convince him to just approach them and hear what they have to offer. They have a few branches in Singapore but we went to the one closest to our homes for our convenience: Ubi! Haha.
We were served by L who was on duty when we walked in one heavily raining day into their branch. After showing us around their unit and explaining a little on the materials they used, we sat down to discuss what we wanted. Unlike the IDs we met previously at 3D Innovations and Sky Creation, L did not say much when we explained what we wanted to him. Instead, he was either silently nodding in agreement or simply sketching what we told him. I liked that he was the only one out of all we met to take out a ruler and pencil to draw neatly on the floor plan. This signaled to me that he was a meticulous guy, which I felt was a good trait to have as an ID. He tried to understand our wants and where he thought was impossible, tried to explain to us the rationale behind his thinking. However, precisely because he did not say much, I thought that L was not very good and I kept wondering if he really understood what I wanted. In contrast, for example, the ID at Sky Creation would excitedly suggest design elements I would like based on whatever I told him and I would nod in excitement and agreement. Then he confidently say that he knew exactly what I would like and how to design our house. Hence, this made me confident of his designs and that he would know what I really wanted. Therefore, I told Sunshine that my first impression of L was "Er… he seemed like a block of wood. Would he really understand what we wanted?" I did not leave with a good impression though I was told myself that perhaps his "woody" character meant that he was trustworthy (忠厚老实) and would not just sweet-talk me to sign and then not deliver after that. After noting down all that we told him, L promised to work out something for us and give us a quotation soon.
About a week later, we met him at his company's showroom and he showed us his quotation. It was slightly less than $30k! Wow! Our cheapest quote so far! However, we had a change of ideas for some of the things we wanted and we requested for a revised quote based on our new requirements. This happened for a few times and by the third quote, we were more of less quite satisfied with him. This was because both of us liked his easy going character. For me, I also liked the fact that whenever I tried to bargain for a cheaper price with him, he would laugh, look through his quotation then strike off a pricing and write FOC. Lol. This made me feel that he is willing to earn a little lesser in order to secure a deal, which impressed me a little. However, Sunshine said that this just tells us how much profit margin the industry is actually earning (the prices we were quoted for most items elsewhere were even more expensive than the one L initially quoted, before he gave us the "discount"). Oh. I did not think of it from this angle. Still, this was unlike our experiences at other IDs firms where the "IDs" would spend A LOT of time just trying to get us to part with our money. Even a $500 deposit was better than nothing. On the other hand, L NEVER once tried to persuade us to sign with him. He just focused on what we wanted and how much he could deduct for us after initially quoting us (a high price. Lol).
By the time we reached our third or fourth quotation, we were more or less decided that we would sign with him. However, I wanted to give the ID at Lux a chance and give us a chance to get another quote and hence, we still did not sign with L. As mentioned, L never once pressurised us to sign with him though Absolook was running some promotions then. Other IDs would most probably just play on the part where people do not want to miss a good bargain and probably say something like "We have a promotion now eh! This is the best time to sign with us! If you miss this, you would have to pay more the next time when you decide to sign with us. Why wait?" Though I thought L probably knew we were going to sign with him already and hence was not anxious at all. Lol. After our unremarkable meeting with the other ID, we went back to L the next day, just one day after we met him so that we can sign with him.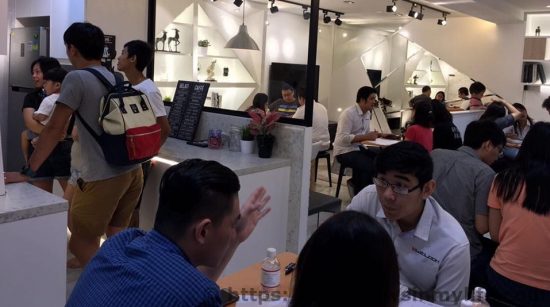 I had, even before we started sourcing for an ID, told Sunshine that I do not want to sign with anyone before we got our keys. This was because I had read online that some IDs would quote a low price before the couple get their keys but upon viewing the house, would tell the couple that whatever they wanted could not be achieved because of the layout of the house etc and that they would have to top up money for extra works in order to achieve whatever they wanted. However, L made us so comfortable and Sunshine was so lazy and tired (we burnt almost all our weekends just going to different IDs) that we decided to sign with him even before we got our keys. Another key reason for signing with him then was because it was the last day of their promotions and although I knew from their Facebook that Absolook ALWAYS (almost monthly) have promotions, we were getting our keys very soon and we wanted to tap on the ID to help us with our defects checking. The next promotion probably would not happen earlier than our key collection. Additionally, L assured us that any changes to our plans can still be made and the quotations revised after that. Hence, I was okay with signing. After discussing some final details and a little bit more bargaining, we signed! We were entitled to a sure-win spin (yes, we knew it was a marketing gimmick) and lucky me won us some discount off our package price! Woo hoo~
I realised from our choice of bridal studio and ID that though both of them were very established, they also had quite a number of lousy reviews and complaints from customers who had a nasty experience. However, Sunshine and I have been quite lucky so far as our experiences with both companies have been good. Granted, there may be some inconveniences experienced, however, these were very small hiccups which I believe one may still experience elsewhere. I came to realise that the individual person serving us becomes the face of the company and a good/bad experience would most likely depend on one's luck with that individual. Some may hence have a pleasant experience with that company while others would have a totally horrible experience.