Electrical Appliances like Washing Machine, Fridge and TV: $3,237
Sunshine and I have been looking out for these electrical appliances for the past few months whenever we go window shopping. We first window shopped around to see what types and models were offered, noted down those which we like then went home to read reviews online before deciding. We also read about where to buy these electrical appliances. In the end, we went to Gain City, Best Denki, Harvey Norman and a hardware store, Goh Ah Bee.
After comparing the prices, the additional benefits from spending at the various stores, we decided to buy our electrical appliances from the same place where we bought our Air-conditionals as we were already Gain City members. We participated in their Group BTO Buy and went to one of their outlet during the event.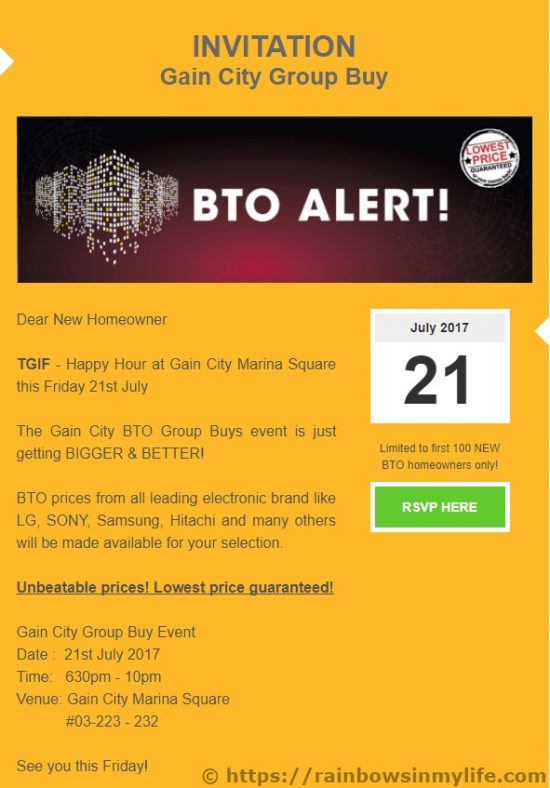 At the event, I realised that the total cost of the items (washing machine, fridge and TV) were about $200-300 cheaper than what we saw at the rest of the other stores. Hence, we decided to buy our appliances at the event. We got a 8kg load LG washing machine, 35L Samsung fridge and a 55 inch Samsung TV. We were actually looking at a LG TV of similar specifications. However, the salesperson was pushing for the sale of this Samsung TV (Sunshine reckoned he would receive higher commission for this Samsung TV instead of the LG one) and we eventually chose it because there was a free soundbar thrown in as well. Yay! We do not have to buy a sound bar now! 🙂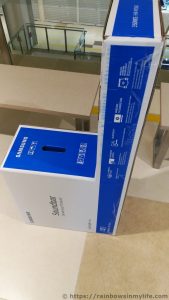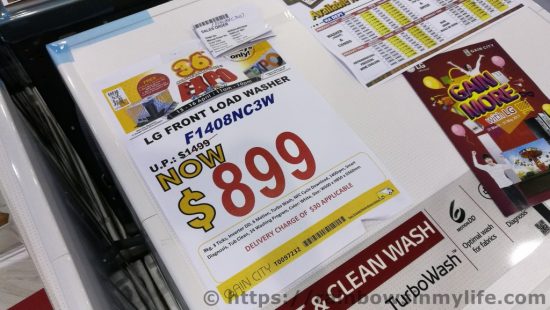 On hindsight though, after paying, I realised that I had compared Gain City's BTO event prices with the individual prices of the electronic items. Had we chosen to buy the above three items at another store and bargained for a cheaper price instead, who knows, we might be able to get a similar price or even lower price than what we paid for, right? Nevertheless, we had already placed our order and paid for the purchases. Hence, this shall be a lesson learnt to compare more, not only based on the stated prices, but to also speak to the salespersons and bargain. Lol.
Sofa, dining bench and chairs: $1,730
We went to shop for our sofa when our house was almost ready. After researching online, we decided to go to Comfort Design, or rather, I decided to drag Sunshine there. Lol. The journey was unpleasant as we were walking under the hot sun to its inconvenient location. However, once we reached there, our moods got cooler with the air-conditioning there as well. Haha. We saw quite a number of people there on a Saturday and like them, we also tried the various sofas on display there. We were shortlisting our choice sofa based on the following considerations:
Cloth-based, instead of leather (my preference which Sunshine also agreed eventually as leather is harder to maintain),
Soft and comfortable seats,
High headrest (Sunshine's requirement),
L-shaped (Sunshine's preference),
Removable covers for washing (my requirement),
Available in either grey or brown (my preference since our house colours are as such) and
Hopefully, does not burn a hole in our pockets (though we were unsure of what the usual price range for a sofa was).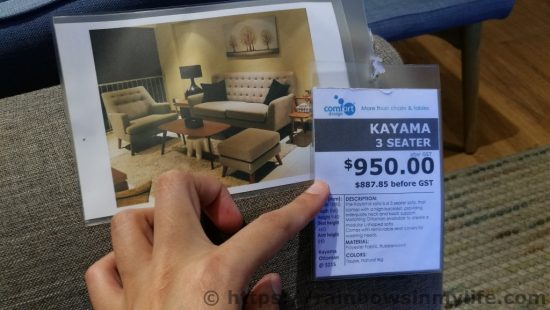 Thankfully for us, we managed to shortlist something we both liked: the Kayama 3-seater sofa! <3 However, it is not L-shaped and one would have to buy an ottoman for it and that there was only one colour. Though we were happy with the grey, I still preferred to have a darker shade which would be more difficult to look dirty. As this was our first sofa-hunting, we decided to KIV this and look around a bit more. I managed to shortlist a coffee table there too!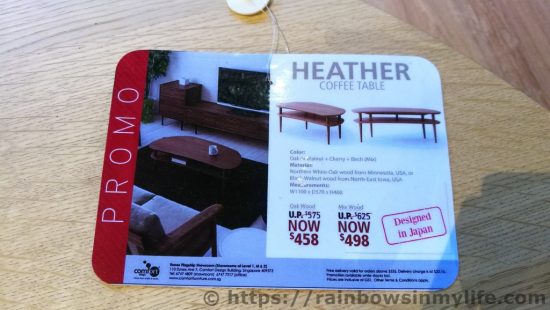 Though Sunshine agreed to KIV and look around first, he wanted to buy the sofa at Comfort Design some time later as he did not want to spend more time researching and trying out other sofas. =.= However, as I wanted choices, I shortlisted another one: Cellini. It was yet another hot day when we made our way to Cellini's rather inconvenient location at Changi. We were the only customers there on a weekend afternoon. After trying out all the sofas within our price range in the showroom, we found The One: Karl! It met all of our above criteria, except for one rather important one, which was removable covers. SIGH! After contemplating between this or the one at Comfort Design, Sunshine decided to buy the one at Cellini (I think one of the main reasons was also because he was lazy to make another trip to Comfort Design again =.=). After browsing through their catalogue for the different fabrics available for the sofa, we decided on the exact same one as their display sofa because of its dark colour and the comfort.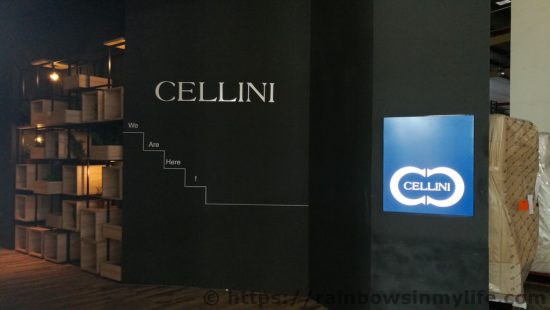 We also managed to find our dining table, dining chairs and a dining bench at Cellini. The dining table is white quartz which we felt would match our kitchen table top (see last picture below for the dining table). It would look classier as compared to a wooden table which I originally wanted. I was also afraid that our house would be too "woody" if we had a wooden dining table instead. We both liked the dining chairs and bench because of its comfort and Sunshine also liked that we can choose the exact same fabric as our sofa! Wow! However, as the dining chairs were more than $150 EACH as compared to IKEA's $80+, I was a bit reluctant to spend this money and wanted to try and convince Sunshine to still consider IKEA's ones instead (However, we called them to buy these eventually a few days later). Sunshine also happened to see cushions of the same fabric and wanted to buy the exact same cushion covers for our sofa as well. Though I brushed him off and said that we could probably ask for them for free since we were already buying their sofa, Sunshine felt paiseh and said I should not be so auntie. Sigh. Hence, when we were placing a deposit, we then asked if they had the exact same cushion covers for sale. Hearing this, the saleslady was very amused, mentioned that they do not sell these and would just give two cushions to us for free. Yay! We left as satisfied customers!
Note: After using the dining table for about 6 months (cannot remember the exact duration), we noticed "bubbles" in the quartz and the number of bubbles seemed to be increasing over time. It was as though the thin film coating the table was heated and blisters had formed over the surface. Unlike our quartz table top in the kitchen, we realised that this quartz is unable to withstand dirt as well. We would clean the table and even scrub it when it was more dirty, however, there would be black marks left over on the table after wiping and we were unable to get rid of the black marks. I think the quality of the quartz must be a lousy one. Yucks! To think this dining table itself was so expensive (> $1,000).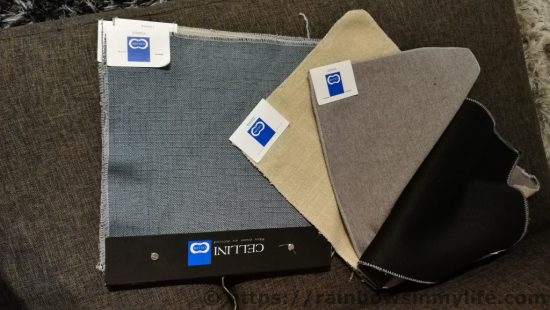 Though Cellini was considered to be one of the more expensive brands, we felt that we bought our sofa at a bargain because unlike Comfort's 3-seater sofa which costed $950, our sofa was larger, was L-shaped without having to pay $200+ for an ottoman and it would come with an additional shelf/side table which could be placed at the side of the sofa. Hehe. We love our sofa! (The only downside was that its covers were non-removable. Sigh. I just have to pray that no one would spill anything on it.)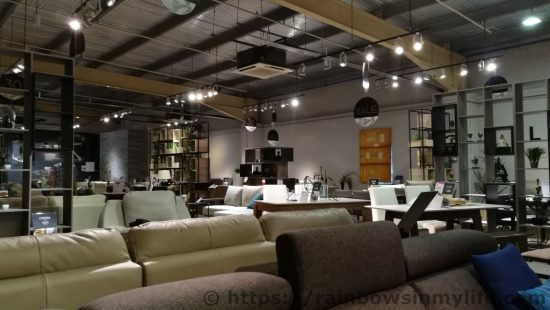 As we had only placed a deposit when we went to Cellini's showroom in Changi, we went to its branch at Suntec City to pay the balance. When we were there, I noted that the prices stated for the same products in the Changi showroom was more expensive in its branch at Suntec City!!! Omg! I felt very thankful that I managed to convince Sunshine to visit the larger showroom at Changi instead. Hehe. *happy*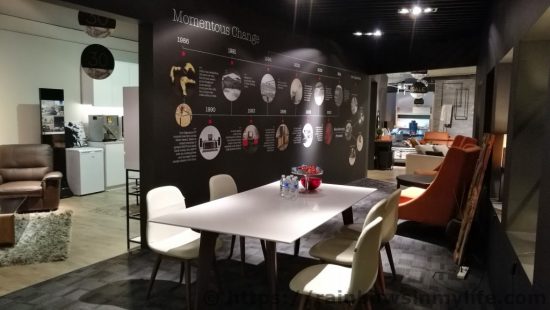 Read Step 5: The Start of Our Shopping Spreeee!!! here.
Read Step 6 here.