In Part 2 of our renovation journey, we continued to search for potential IDs/contractors for the renovations at our place:
We happened to be at Ubi area when we chanced upon 匠 Carpenters. Sunshine had read about them online: they started out as contractors and have moved into the interior design industry recently. However, as they have their own factory for their own carpentry, they would still be able to keep their prices low… or so we thought. By this time, both Sunshine and I kind of knew what we wanted and hence, as they were closing for the day, we told the person who served us what we wanted after he showed us around their small kitchen "showroom". He promised to give us a quote within a week and we left. When they emailed Sunshine few days later, they told him that they were unable to meet our requests with the budget we quoted them. Though they offered to work something out with us, Sunshine and I felt that there was no point in wasting each others' time.
Yes: Own carpentry (and hence, quality is better assured?)
No: Out of our budget
---
Sunshine's friend who would be getting his keys at around the same time as us had engaged the contractor above. According to Sunshine, his friend's father had always engaged this contractor and they were able to deliver quality products at a reasonable price. Hence, we emailed them with a list of what we wanted. Alas, the price we were quoted was also higher than our budget.
Yes: by word-of-mouth
No: Out of our budget
---
My cousin who received her keys last year recommended her contractor to us too. She mentioned that her renovation only costed $12k while the quotes Sunshine and I received so far were about $30+k! (WOW!) I do realised that she did minimal renovations to her house though and hence, it is not an apple-to-apple comparison. However, perhaps the contractor would be cheaper than what we were quoted so far, we emailed them to ask for quotes. To our disappointment though, we were quoted more than $30k yet again.
Yes: by word-of-mouth
No: Out of our budget
---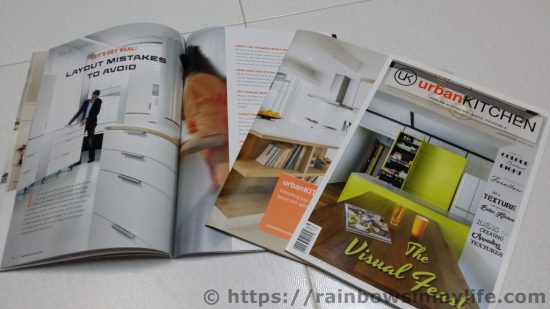 Sunshine read about BLUM Kitchen (Urban KITCHEN) online and wanted to visit their showroom. Hence, we emailed our request and someone made an appointment to bring us through. On the day of our visit, we learnt that Luxurious Design had partnered with BLUM to design their kitchens for customers and we were served by B from Lux. After bringing us around the showroom and explaining the BLUM technology to us, we sat down to discuss the floor plan and our requirements. He also said that we could engage their firm to design our whole house for us. After looking through some of his designs and telling him what we wanted for the rest of our house, B assured that he would give us a quote by the next weekend.
When B what's app-ed Sunshine to inform us that the quote was ready, Sunshine asked if he could just send his quotes to us. This is so that if the prices quoted were above our budget, we see no point meeting him to bargain and discuss any further. However, he flared at Sunshine and said that he would not send his quotes to any of his customers, saying that he has a reputation to upkeep and he would not be like other unscrupulous IDs/contractors who would quote us low and deliver substandard work. Er… Sunshine and I both felt that Sunshine's simple request of asking B to send over his quotation was not THAT unreasonable for him to get all defensive. As such, Sunshine felt that his quote must be very expensive that he dared not send it and he did not want to meet up with him. However, a few moments later, B messaged him again asking to meet. When Sunshine did not reply him, he called Sunshine who then gave him a non-obligatory reply.
Sunshine was still very reluctant to meet B but I saw no harm in giving him a chance. Perhaps he would be able to deliver despite a slightly pricier price tag. When we finally met him and saw the quote he gave us, we were immediately turned off. His quote was the most expensive we received so far! Omg. When we told him that his quote was too expensive for us, instead of trying to reduce the prices of his items, he then took out what he THOUGHT was unnecessary. I was not impressed by that. First, his quote was already higher than other IDs/contractors we approached. Second, those IDs/contractors who had cheaper quotes tried to reduce their itemised costs when we said that the prices were very expensive. However, instead of doing that, B removed items from the quotes to reduce his quotation. Thirdly, he did not even try to understand what we really wanted vs what we were ok to have or not. Instead, he took out items he himself felt was unnecessary. What?? How could I entrust the design and renovation of my house to someone like him? I would do that if I wanted someone to keep opposing me and overriding our own preferences. Absurd! Despite us telling him that we wanted whatever we asked him to quote and asked him to make the overall price cheaper (since we know that it was possible from other IDs/contractors), he just kept trying to persuade to remove more and more things from our quotation. He DID NOT even try to convince us that perhaps his quote was more expensive because of the materials they would use as compared to the materials other companies would use, which may be more inferior etc. Aiyo. B then began to hard sell and trying to get us to place a deposit for his work which we repeatedly reject. Despite us telling him that we needed to consider, he persisted and tried to negotiate with us by asking us not to use BLUM system for our kitchen as this would greatly reduce our quotation. Omg! He was just turning me off more and more as time went by. The issue was not only about the money, but also his attitude!!! After what seemed like a long time (shorter than what we experienced at Musee/Sky Creation though), he finally relented and agreed to let us go back to consider. Sunshine immediately showed me a face -.- after we managed to get out and said, "I told you we should not have come today. It was a total waste of time. Do you get what I was trying to say now?" Opps. Lol.