In the recent years, cord blood banking seems to be gaining more and more traction in Singapore; in fact some of these cord blood banking companies are one of the main (title) sponsors of baby fairs. Sunshine and I sat through at least two of such sales talks by two different companies when we visited the baby fairs. We did not do a lot of research on this but just passively took in whatever information was downloaded to us. However, we have eventually decided against banking Baby C's cord blood but to donate it to the Singapore Cord Blood Bank (SCBB). Please note that one should contact SCBB early (at least 2 weeks before your estimated delivery date). Our reasons for doing so are as follows:
1. Currently, the use of stem cells in the cord blood are mainly limited to blood cancers and other disorders such as blood disorders, immune disorders and metabolic disorders. Most of these diseases seemed to be genetically determined or inherited. Hence, transplanting stem cells with the same genetic material back into the patient with the condition does not seem very useful/logical (?) to us. If the transplanted stem cells are useful to fight the disease or "cure" the patient, then why not just extract these stem cells from the patient's own bone marrow or something? The practice of not extracting one's own stem cells to treat one's own disease does seem to suggest something, right?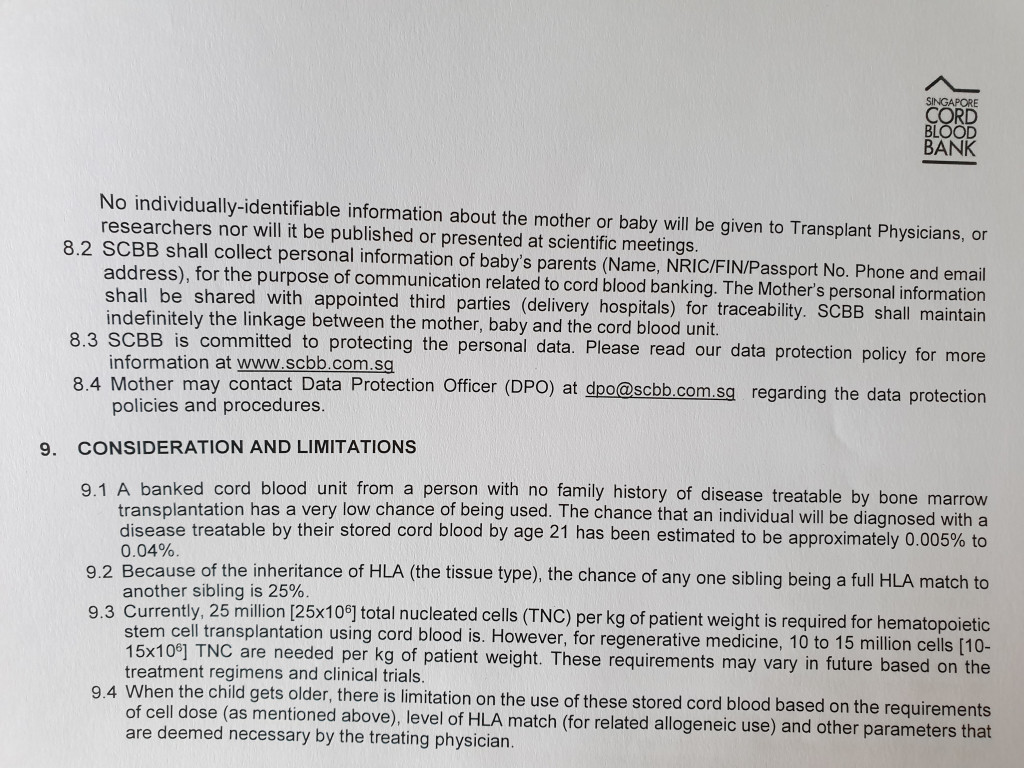 2. The chances of using the stored cord blood is very low. According to the SCBB, it is estimated to be about 0.005% to 0.04%. This is in consideration that the chances of using it decreases as the patient gets older, because the number of stem cells required for treatment increase with the his/her weight.
3. The cost-benefit ratio of storing Baby C's cord blood is high for us. Though it costs only few thousands to store baby's cord blood, we felt that the money could be put to better use. Other than blood cancers, the other types of disorders treatable with stem cells do not seem very common. Coupled with the fact that a certain number of stems cells need to be available for treatment, the cost-benefit ratio seemed much higher than what we were comfortable with. For example, if paying $100k can guarantee a cure for one of the common, life-threatening/ debilitating diseases, we would of course pay the money even if it has to be done through our nose. However, we felt that for cord blood banking, the chances of using it successfully were very low and hence, we did not feel the need to bank Baby C's cord blood.
4. Donating Baby C's cord blood would be the first present she is giving to the world. If we do not bank her cord blood nor sign up to donate it, it would just be discarded as per hospital's procedures. I find that this is so wasteful, especially for parents who may not have read or come across about cord blood donation in Singapore! Perhaps, just like organ donation, patients would need to opt out for donation if they wish not to do so/ or if they wished to bank the cord blood. This would then greatly increase the public cord blood bank's reserves.
If Sunshine and I do decide to store our baby's cord blood in future (perhaps for our next kid), these are some of the criteria I would look out for in deciding a company to store my baby's cord blood:
A. Accredited by international bodies to collect, store and use the cord blood according to international standards. So far, of the four major private cord blood banks in Singapore (Cordlife, Cryoviva, SCBB and Stemcord) have listed some of their international accreditation on their websites. Please do your own due diligence to read up on the accreditation as not all might be as stringent in their criteria as another.
B. Testing of the (quality and quantity of) stem cells before storing. Cryoviva, SCBB and Stemcord all stated in their websites that they would do some kind of testing (such as testing for infections, the number of stem cells available) before storing them. For SCBB and Stemcord, I remember them telling me specifically that they would inform the parents in the event of unsuitability of storage of the cord blood after their testing. This ensures that one would not be paying money for nothing if the collected cord blood cannot be used eventually due to factors which could have been picked up at the testing stage. According to Cryoviva, "a sample of the mother's blood is needed to test for infectious diseases that can be transmitted across the placenta to the baby… This simple but important step can help us to ensure that the cord blood is clinically safe to be applied for future treatment".
C. Processing of cord blood. While I am not familiar with the technology to best extract and process the stem cells, I note that Cordlife, SCBB and Stemcord all stated that they are using the same stem cell processing technology, Sepax®2, while Cryoviva states that they are using an "Explant technique" for processing of cord blood. For me, I would choose to go with either of the first three since they are using the same technology.
D. Ease of retrieval. I would assume that the use of cord blood would not be for emergency conditions. There would have to be discussions with the doctors before a decision on this is made and hence, for me, response time is not much of an issue. However, I would be concerned about the ease of bringing the stored cord blood overseas for usage in the event that a particular treatment using cord blood has been approved overseas but not in Singapore. The company I choose should be able to assist with this (unless all four existing companies do not provide this service).
E. Cost. The costs of storage differs from company to company, based on the type of stem cells stored, the duration of storage and payment periods. One would have to sit with the company to understand the charges.
F. Multiple storage locations. Cordlife says,
"As Singapore is geographically small and free from natural disasters, there is no real need to store your baby's cord blood in different locations. Splitting the cord blood unit into multiple bags increases the risk of contamination. The unnecessary location move may heighten the risks of exposing your baby's cord blood to heat, resulting in cellular damage and possibility of sample mix-up.
The volume of a cord blood unit does not equate to cell count; splitting into multiple bags does not guarantee more stem cells. The success of a stem cell transplant largely depends on the amount of stem cells used in the treatment; splitting and storing of cord blood in multiple bags does not guarantee multiple treatments.
Given that the cell dose is an important predictor of successful transplant outcomes, such 'split CB units' might place their potential recipients at a disadvantage and their application, therefore, unlikely, unless successful stem cell expansion becomes practical in this setting."
Stemcord, the only company which states that they have multiple storage location for the cord blood, also states that they would test for, among others, the cell count and cell viability of the stem cells before storage. Hence, if I were to sign with Stemcord, I would simply ask them to confirm that they would not be splitting the cord blood into two locations if the cell count is too low for treatment once split. (Duh right!) If they were to still insist on splitting (which does not make sense), then bank with another company lo.
| | | | | |
| --- | --- | --- | --- | --- |
| Criteria | Cordlife | Cryoviva | SCBB | Stemcord |
| Accreditation by International Bodies | Y | Y | Y | Y |
| Testing of the stem cells before storage | N | Y | Y | Y |
| Technology for Processing of cord blood | Sepax®2 | Explant technique | Sepax®2 | Sepax®2 |
| Ease of Retrieval | 24/7 service | Not mentioned | Not mentioned | 24/7 hotline |
| Multiple Storage Locations | N | N | Not mentioned | Y |
This post is mainly for me to share my own views. However, I may have my own biasness and hence, As mentioned, I did not do a lot of research on this and hence, the information presented may not be very comprehensive. Please do your own due diligence before deciding on what to do with your baby's cord blood 🙂