Sunshine and I were invited to go to HDB to select a flat in Sengkang on the 17th of December this year (May 2015 SOBF launch). Hence, for the past few days, I have been checking and tracking the details with regards to my flat application: what is the last queue number called and the units left for selection. I understand that some people, especially first-timers, may have forgotten and not know how to check when their appointment date and time is, their ballot queue number, the last ballot number which has been called to select a flat on that particular day etc. Therefore, I will guide you step-by-step on how to do so in this post. Keep reading!
1. Go to hdb.gov.sg and click on "My HDBPage" at the top right hand corner of the page.
2. You will reach the Login Panel. Login to your account with your Singpass as prompted.
3. You will then be shown the Overview of your "My HDBPage".
4. Select "My Flat" and click on "Application Status" on the panel at the left hand side of the page.
5. Click on "New Flat" to check on your BTO/SOBF application status.
6. Once clicked, you would be shown the details of your flat application.
If the results of your application has been released, you can see your ballot queue number and your appointment for a flat selection (if any). If your application is still being processed, the results of your flat application would be released at a later date as indicated there by HDB.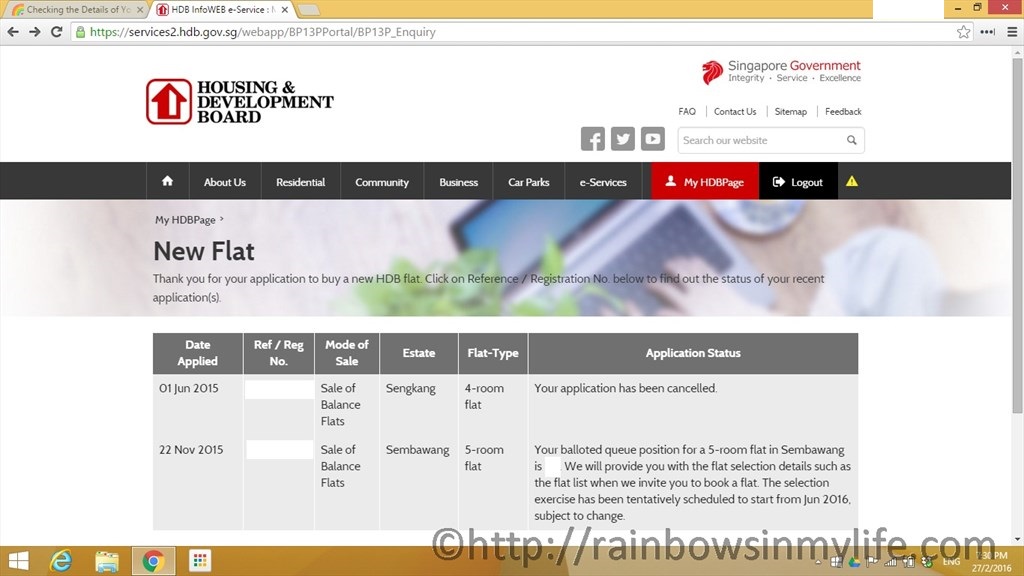 7. To see more information about your flat application, click on your "Ref/ Reg No.".
Here, you can view your flat application details, your balloted queue number and, if you are waiting anxiously for your turn, the last queue number invited for flat selection on that day.
Note: You can only view the last queue number invited for selection for the area and the type of flat you have balloted for during that exercise and only if you have not selected a flat.
The line you see would read
"Last queue number invited for selection of a _____ (insert flat type) in _____ (insert flat area) under ____ (insert sale launch) as at _____ (today's date).
For example, if you had balloted for a 3 room flat in Punggol under the May 2015 BTO, had been invited for a flat selection but have not yet selected your flat, you would see
"Last queue number invited for selection of a 3 room flat in Punggol under the May 2015 BTO as at 14th Dec is XXX."
This queue number indicated is not reflected real-time but is updated on a daily basis and shows the last number which would have been invited that day.
Happy checking on the last queue number called if you are still waiting for your flat selection like me! XD