This is, like the rest of my wedding-related post, long over due. I have received quite a number of queries about my review of Novotel and hence, I will be starting my review with them first.
Wedding coordinator – 3.5/5
After the coordinator I initially signed with (the one with lots of positive reviews) left Novotel, I was assigned to another coordinator who soon transferred our case to yet another new coodinator. Sunshine and I were quite worried that we would then face communication issues as our case gets transferred from one coordinator to another. Sherlyn was our third and final coordinator. I did not really have a good impression of her mainly because she did not contact us much. One of another personnel was the one following up on the "administrative issues". Replies took a few days and she did not even bother to reconfirm/remind us for our food tasting (not that we needed any reminders) and our eventual first meeting with her. For example, after we arranged a date for food tasting (which was about one month before), the next time she contacted us was one week after our food tasting. Even then, it was only after I emailed to chase her for a reply on our comments for the food tasting. Hence, I did not have a good impression of her. However, as I assumed she was new and had many cases to cope with, I think this would improve with time. We first met her sometime in Sep to discuss about some final details for our banquet and sign the Order Form if everything was in order eg. the number of tables, special requests, colour of the sash for the banquet decoration (pink!), colour of table cloth (wow! I did not know that), type of cake stand, wedding favours etc. At the meeting, I found that Sherlyn was warm, friendly and easy-going. It was easy to chat with her and inform her of our requests such as two wireless microphones to be provided for solemnisation (which she informed us would already be catered for). Overall, I thought that though she might take some time to reply, she got things done and I had no complaints about it. (However, I later realised that perhaps as she was new, the information she conveyed was not very accurate).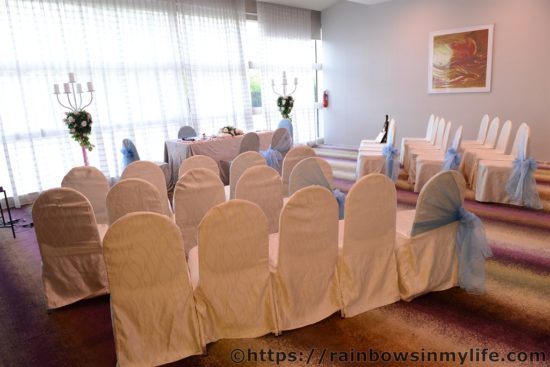 ROM room – 3.5/5
Right from the start since Sunshine and I decided to have our ROM ceremony at Novotel, we had made our intentions clear that we would prefer to have our ROM in the first function room (right at the corner nearest to the ballroom). Novotel explained to us that they would not be able to confirm if they would be able to assign the first function room to us because there may be bookings for the ballrooms on our wedding date. Time and again, whenever I checked with them whether there was a booking for the first function room that we wanted, Novotel told us they could not confirm. We only had the first inkling of the function room they assigned to us when they indicated the name of the function room on the Order Form which we signed. Even then, we were told that they would try to arrange for the first function room for us on our wedding day. It was only on the actual day that we learnt that there was another wedding in the Phoenix Ballroom (a larger ballroom on the 7th floor) and that the couple would have their solemnisation room in the first function room. Novotel's rationale was it would be easier for guests from the Phoenix Ballroom to identify the ROM room. While their rationale was not wrong, I was very upset with them not informing me about the another wedding happening on the same day! I am very sure that the ballroom was not just booked on that day itself and the function room assigned to them then! Novotel could have informed me when I repeatedly checked with them on this issue so that I would be prepared and could have informed my guests! As there was no signage pointing my guests to the function room for my ROM (only an electronic signage right outside the room), some of my guests did not manage to find the function room at all and they just loitered at the reception area! Had they informed me about this beforehand, I could have told my guests to turn left and went in deeper to find the room. Sigh. I was very disappointed and pissed with this.
Other than that, I was quite satisfied with the arrangement of the ROM set-up in the function room. It would have been perfect if the sashes they used were pink though. I thought they would have coordinated with the pink colour sashes used in the ballroom . Nevertheless, I thought it was pretty and quite cosy for our ceremony. Two microphones were provided. However, music had to be played from our own laptop.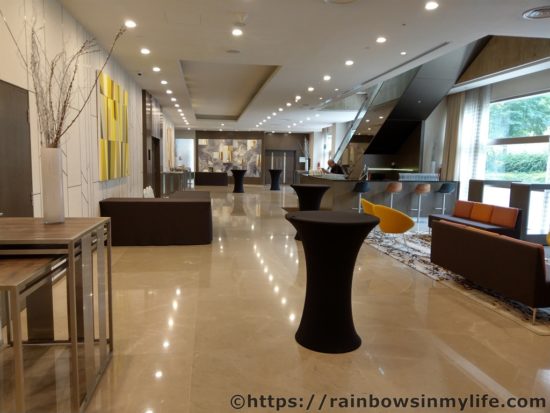 Reception area – 4/5
The reception area was spacious and unlike some other hotels where couples had to share their reception area, we had all of the whole floor to ourselves. There was also an open area for smoking guests and guests with crying babies to "escape" to. On the floor plan which was given to us when we met Sherlyn in Sep, it was indicated that there would be an album table in addition to the reception table. However, on the actual day, there was no said table. My helpers had to then make do and place our decorations on the limited space on the reception table. It was quite cramped as there were guests trying to look at our wedding album and guests trying to sign their names and obtain their table numbers along the same table.
As my helpers set up the reception table just before our ROM ceremony (about 6pm), I noted that the easel stand which was to be loaned from them was not brought out yet. I asked one of the banquet staff about it and thought that it would be brought out after our ROM ceremony. However, it had not been done. Despite numerous requests, they only managed to bring out the easel stand right smack during the cocktail reception at 7+pm. My guests had to move away to allow them to pass and my helpers had to leave the reception table to put up our wedding photo frame. =.=" Angst!
As part of our package, we were entitled to a dessert table of four items. While I did not manage to eat (nor even see what was offered), my guests commented that it was good and they were soon wiped out. Do note that the portion provided would only be up to 75% of the total number of guests.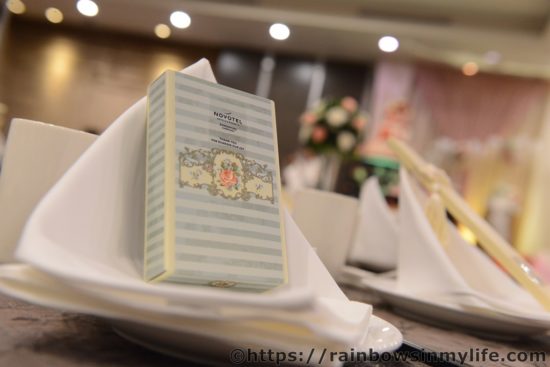 Cinnamon ballroom/Banquet – 3/5
Layout.

The decoration of the ballroom was exactly how I pictured it to be!!! (ok, not exactly since the LED cake stand we chose was something new which they offered) <3 <3 <3 Decorations aside, I had asked Sherlyn about the placement of the AV table in the ballroom when we met her and she informed us that the AV table would be placed on the right side of the ballroom. We had then arranged for our helpers and emcees to be seated in Table 21 so that they would be nearer to the AV table and stage. However, on the actual day, we were only informed by our wedding videographer that all the AV ports and the set-up was on the left side of the ballroom instead. As the ballroom was not divided evenly into same number of tables on each side, we had planned the sitting arrangements, taking into consideration of the placement of the AV table. With the uneven number of tables on each side, it was not possible to do a mirror reflection of the sitting arrangements. While it was easy to sit our helpers at Table 1 now, we did not want to just swap my relatives originally assigned to Table 1, to now be seated at Table 21, away from the rest of my other relatives! My brother had to then hurriedly rearrange the sitting arrangements and update the helpers at the reception table before guests were being informed of their table numbers.

Service.

As Sunshine and I were waiting outside the ballroom for our first march-in, I felt quite taken care of and pampered by the banquet staff. They would talk to us to try and make us less anxious, offer us drinks and arrange my gown. Our banquet manager was also reassuring as he explained the process to us. I read online that Novotel would have innovative presentation for their first dish and if we requested for a particular coordinator, he would make it very fun. However, we did not manage to request in time. Nevertheless, we were still ok with the presentation and had no complaints about our banquet manager. The care extended to me by the banquet staff lasted throughout the whole banquet dinner as they would come to me immediately whenever I seemed to require anything. However, the service experienced by some of my guests were not as good. One of them commented that the waiter at his table split a lot of the soup when portioning it out and did not even bother to clean the lazy susan at all throughout the banquet. Another of our guest feedback that the waiter did not even checked with those at the table before clearing the food. In addition, quite a number of our guests commented that drinks were not refilled promptly and requests for chilli, wine and other items had to be repeatedly requested/were not met. The serving of the food was also not coordinated on both sides of the hall. One side was much slower than the other such that one side of our guests had already finished their desserts and were leaving. All the lights in the hall had also been switched on at this point in time. Seeing this, our emcees quickly went on stage to thank our guests and end the banquet. The thing is, the other side of the hall still did not have their desserts served! With half of the hall leaving, all the lights switched on and the emcees making their closing speech, some of our guests on the other side of the hall thought that there was no dessert/did not want to wait for their dessert and started to leave as well. In the end, some of the tables did not even have to have the desserts served. Sigh.

Food.

As Sunshine and I only had the first dish and another dish, we could not comment on the taste of the food served. However, similar to the service rendered, one side of the hall tasted fish which was cold/not fresh. The portion of food was also not done properly back end. One of my guests shared that his table had insufficient prawns and the waiter had to search for that missing prawn and eventually got it from another table who had 11 prawns. Wth! =.= Tea was also cold most of the time (since it was not being refilled frequently when needed). The food which was sent up to our room after the banquet had ended was also cold. I was quite shocked that they did not even bother to reheat the food and would just send it up to us. The fish I tasted then was hard and did not seem fresh. The soup was starchy and not appetising as well.

Ambience & room atmosphere.

Based on my own experience when I was in the ballroom, the ballroom was very bright most of the time and did not have the cosy feeling which I had experienced at other banquets. The music playing in the background was also very soft. In fact, I hardly heard any music at all that night except during our march-ins. I think it would have been much better (and classier) if the music was louder. Most of the time, the ballroom was so noisy I thought I was at a market (while turning up the music would not stop the chattering, I think it would drown out some of the mindless chatter and make the atmosphere better).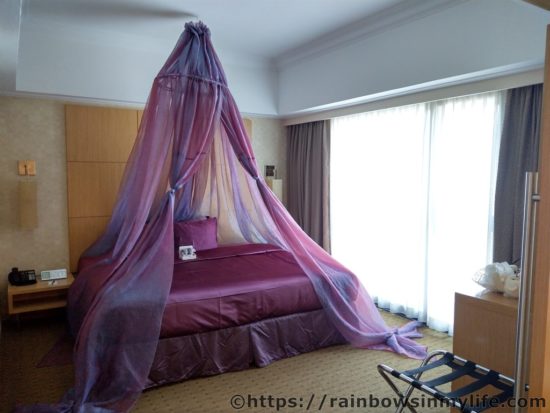 Suite – 4/5
Unlike what Sherlyn had promised us (that we would not have to check in physically and that a phone call before our arrival would ensure that our check-in was expedited), we had to queue just like any other hotel guests when we reached the hotel to register and check-in. After we had checked in, we proceeded to our rooms and were pleasantly surprised to see rose petals lined along the corridor of the entrance, chocolates and sweet treats placed on the table, together with a bottle of wine for us to celebrate our union. There was also a small pair of teddy bears placed on the bed. The room was bright, clean and spacious enough for us to spread all our belongings. There was also a partition separating the main area of the room from the bedroom. However, as Sunshine's brothers wanted to camp in our room for a while, I wished that there was at least one or two more chairs. The other "helpers' room" assigned to us was just but a corner away, not too near yet not too far, which was ok for us. After the banquet ended, we went back to our room to discover that a fondant cake had been sent to our room while we were away (the cake was part of our contract).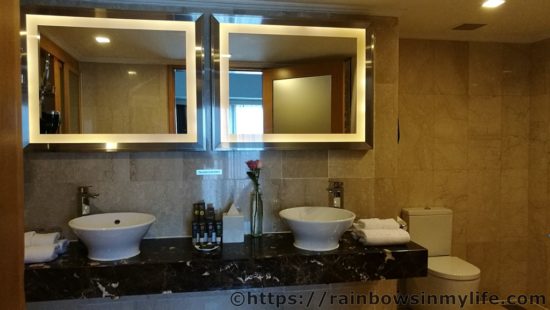 Overall service – 3.5/5
Despite us telling Sherlyn the car plate number which would occupy the front of the hotel (meant for the bridal car), the hotel staff on that day did not get the message. We had to inform them again when Sunshine and I arrive at the porch of the hotel. One of the staff even called us when we were in our room and we informed him again of the same thing. However, I learnt that my father still did not manage to park his car at the front of the hotel! He said that the hotel staff said that they were not informed that his car would be parked there and refused to let him park there. This caused a slight delay in him arriving for my ROM on time! I was quite exasperated when I heard this. The information had not been passed down despite us informing various parties about it.
Other than this, the overall service we received were ok. We asked for something (cannot remember what it was) and it was delivered promptly. We placed an order for early breakfast (for my sister in the other room as she had to rush the next morning) and it was delivered on time. However, there seemed to be some miscommunication and my mother had to warn me to check that they deduct my credits instead of charging us for the meal.
Overall, I felt that though there were minor hiccups here and there, we were still satisfied with how everything went. Though it was not a perfect wedding, it was still considered smooth with all the help we received from our family and friends. Given another chance, at the price point we paid for hosting our dinner at Novotel, I would still choose to have our banquet here.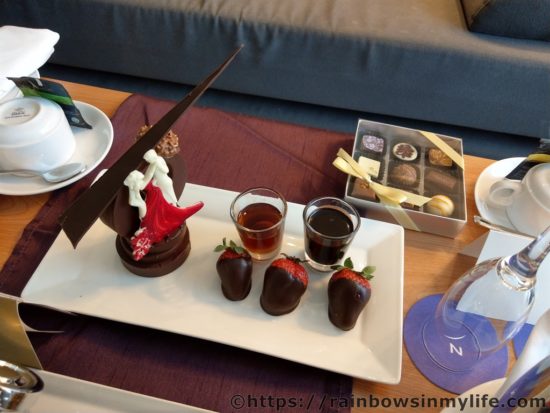 Read Wedding Planning Chapter 23 – Wedding Day Part 2 here.
Read Wedding Planning Chapter 25 – Review of WhiteLink here.