I received a few queries about my review of YoyoStudio and hence, I would be reviewing them in this post. 🙂
Price: 4.5/5
At $880 for 10 hours of videography for actual wedding day videography, I really have no complaints about Yoyo's prices. This is the cheapest I could find (see Chapter 6 for more information). It was the main reason for me to choose Yoyo as Sunshine did not even want to spend money on videography at all.
Service: 4/5
I have no complaints about their service as well. Right from the start when I liaised with them, the process was very fast and fuss-free. Instructions what to do and what to expect were also clear as well. They also acceded to my request for a specific videographer, V. I went to their Facebook page and read that there was a particular videographer who was friendly and easy to work with. As I did not have any idea what type of wedding video I like, I thought it would be even more important to find someone who would be easy to work with. V was very easy-going right from the time we first met him before our wedding day. As he had a mental checklist of questions to ask us, he came across to me as experienced, well-prepared and was just someone who knew his stuff. He also explained to us his way of shooting the videos and what to expect and prepare on that day. This reassure us and we told him what songs we wanted for our videos and any special requests we had.
Style of video: 3/5
While I did not have any idea of what I like, I do know what I do not like and what I would like to have in my video. I do not like Yoyo's style of putting the wedding shoes in a 180 degree straight line. I told V this and while he did not portray my shoes in a straight line, I did not like the way he took it as well. On our wedding day itself, V was able to direct us for some of the shots he had in his mind yet he was also able to capture our interactions naturally. He told us that he wanted to film us hopping on one spot (our outdoor location) then teleporting to Sunshine's place and hence, we did the hopping. During the screening of the SDE at our banquet later in the night, I learnt from my friend that there was no such transition. When I checked with him, he explained that he forgot to video us "landing" at Sunshine's place. Sigh. No wonder. I will try my best to explain the next portion on the "transition" from one place to another: When I finally had the time to watch the SDE myself, I realised that he used the same technique to film all the transitions from one place to another: the transition he used was "fake talking to one another". When he edited the video from the wedding car to our outdoor venue, he showed me "talking" with my bridesmaids to introduce the location. He also asked Sunshine and myself to pretend to talk to each other as we reached Sunshine's place after our outdoor location. When we returned to my place, he also filmed Sunshine and myself "talking" to each other to introduce the scene. I was not against this but it was seriously a bit repetitive. I could only imagine that our SDE would be slightly more cheeky if only we had remembered to "land" at Sunshine's place.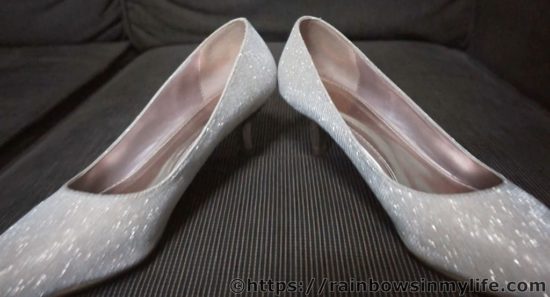 As I watched the SDE and the full day video, I also thought he could have told Sunshine and myself if certain angles were not flattering for us at all. For example, as I was shy and awkward at being filmed during kissing, my facial expression was actually very tense and it just looked as though I was trying to escape from Sunshine but was forced to kiss him (Lol). This was video-ed when Sunshine first came to pick me up at my place, at our outdoor shoot, during ROM, during banquet toasting etc (i.e. many times)! I wished he had told me about how awkward I looked during these times or at least showed me this portion as a "preview" or something if he found it hard to tell me so that I would know it and relaxed more during kissing. Lol.
When Sunshine and I met up with the videographer before our wedding, I had requested for the videographer to weave our vows exchange (we had our ROM on the same day, before our banquet) into the starting and ending of our Same-Day-Edit (SDE) video. I had imagined the start of the video to be Sunshine looking at me while saying part of his vows and then the video to be transitioned to the start of our wedding day when he prepared to come fetch me (with Sunshine continuing his vows in the background) and similarly, for the video to end with me reciting part of my vows while looking at Sunshine. However, the videographer explained that he was unable to do it as he would have to test out the SDE video which would have been edited already and record the cocktail reception. He explained that the cocktail reception was important as it would be capturing (our interactions with) our guests for the full day video which he would send us after the wedding day. Hence, I did not push it. When I saw the full day video, the cocktail reception portion looks so boring! If I had known it would be so boring, I would have insisted for him to edit a portion of my ROM into the SDE.
Quality of video: 3.5/5
While the quality of the video was generally ok, a scene at the start of the video was not sharp and as it was also very bright, it just looked like a video with very low resolution. Otherwise, the rest of the video was ok and watching it on a normal screen was alright too. It was not 4K resolution and was nothing to shout about though.
Overall experience: 3.5/5
Yoyo was good and much friendly on the wallet as compared to all other companies I had researched. While I am still very happy when I viewed my SDE (not the full day edit. The cocktail reception was =.="), I certainly felt that there was room for improvement in terms of the videoing. Given another chance, I might have likely chosen to pay more and sign with another company instead though.
Read Wedding Planning Chapter 25 – Review of WhiteLink here.